<![if !vml]>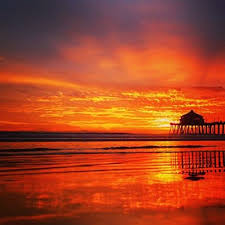 <![endif]>UNCLEJOHN.ORG<![if !vml]>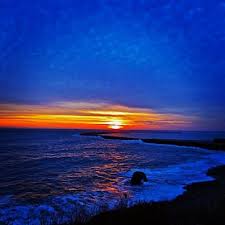 <![endif]>
<![if !vml]>

<![endif]><![if !vml]>

<![endif]><![if !vml]>

<![endif]>
<![if !vml]>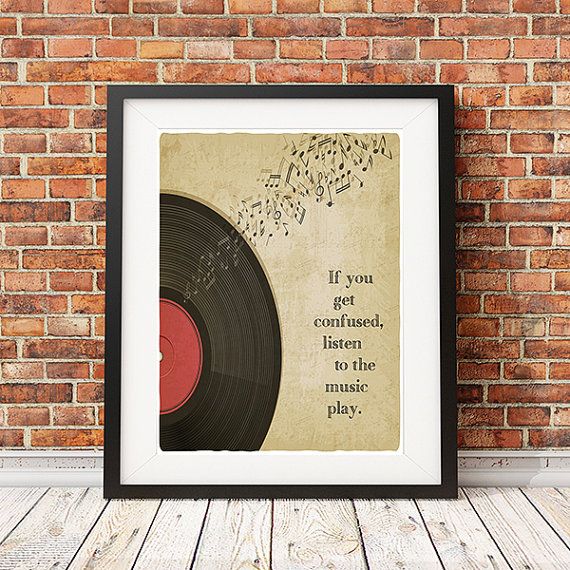 <![endif]>

Sweetwater Music Hall, Mill Valley California
January 28 & 29, 2023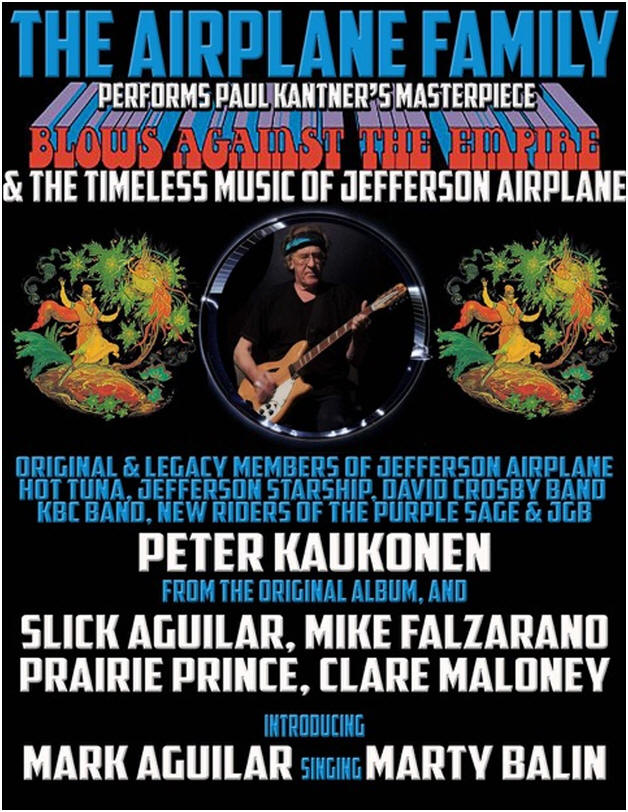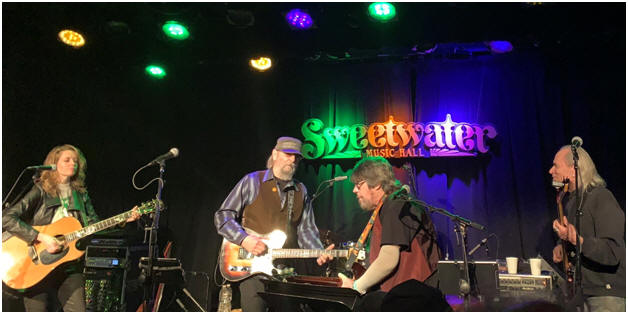 GREEN COMET 1/24/2023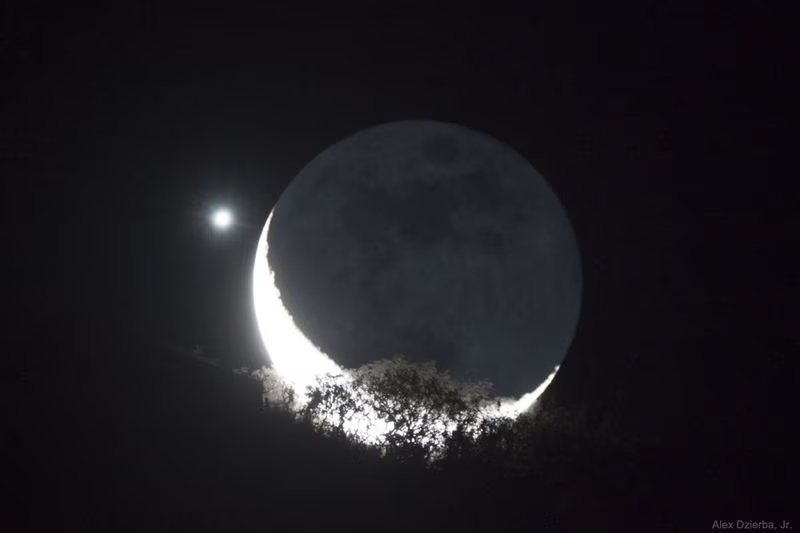 Jupiter & The Moon 1/25/2023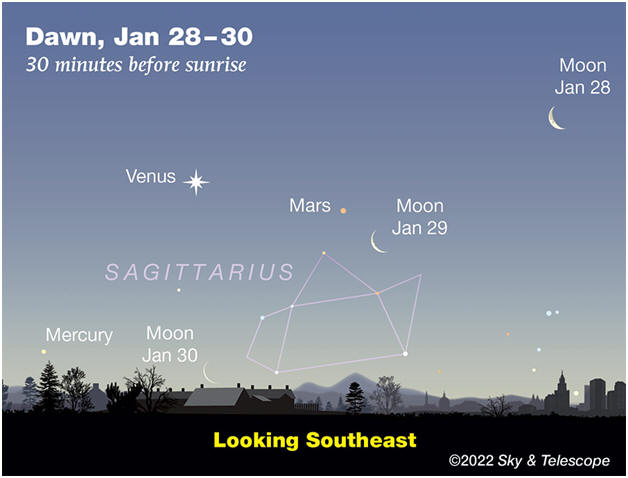 Have You Seen The Stars Tonight?
I'm sitting at a table directly across from Paul Kantner of the Jefferson Starship & Jefferson Airplane. He's reading the Chronicle and I'm playing one of the puzzle mazes. Paul's profile is facing me and he looks just like an alien with pins sticking out of his ears. I probably look the same to him because we are at an acupuncture clinic and I engage his attention and bring up my musical science fiction play, "RAINDANCE". In the play, extraterrestrial time travelers, seven sirens, intercept the Voyager 1 and capture the Golden Record and listen to it, including Chuck Berry's song Johnny B. Goode, and when they arrive on Earth they become seven gypsy dancing women who sing to Bobby "Sugarfree" Sugaree, and in one voice tell him "Take us to your leader Johnny B. Goode". Paul Kantner and I talk about Jerry Garcia's love for science fiction, Blows Against The Empire, and Sirens Of Titan.
Golden Record Manual for Visitors from Interstellar Space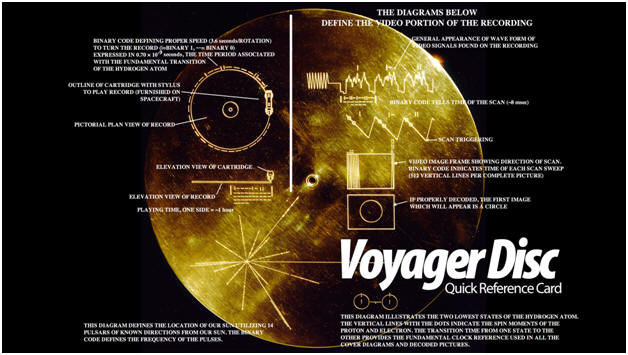 Thanks to NASA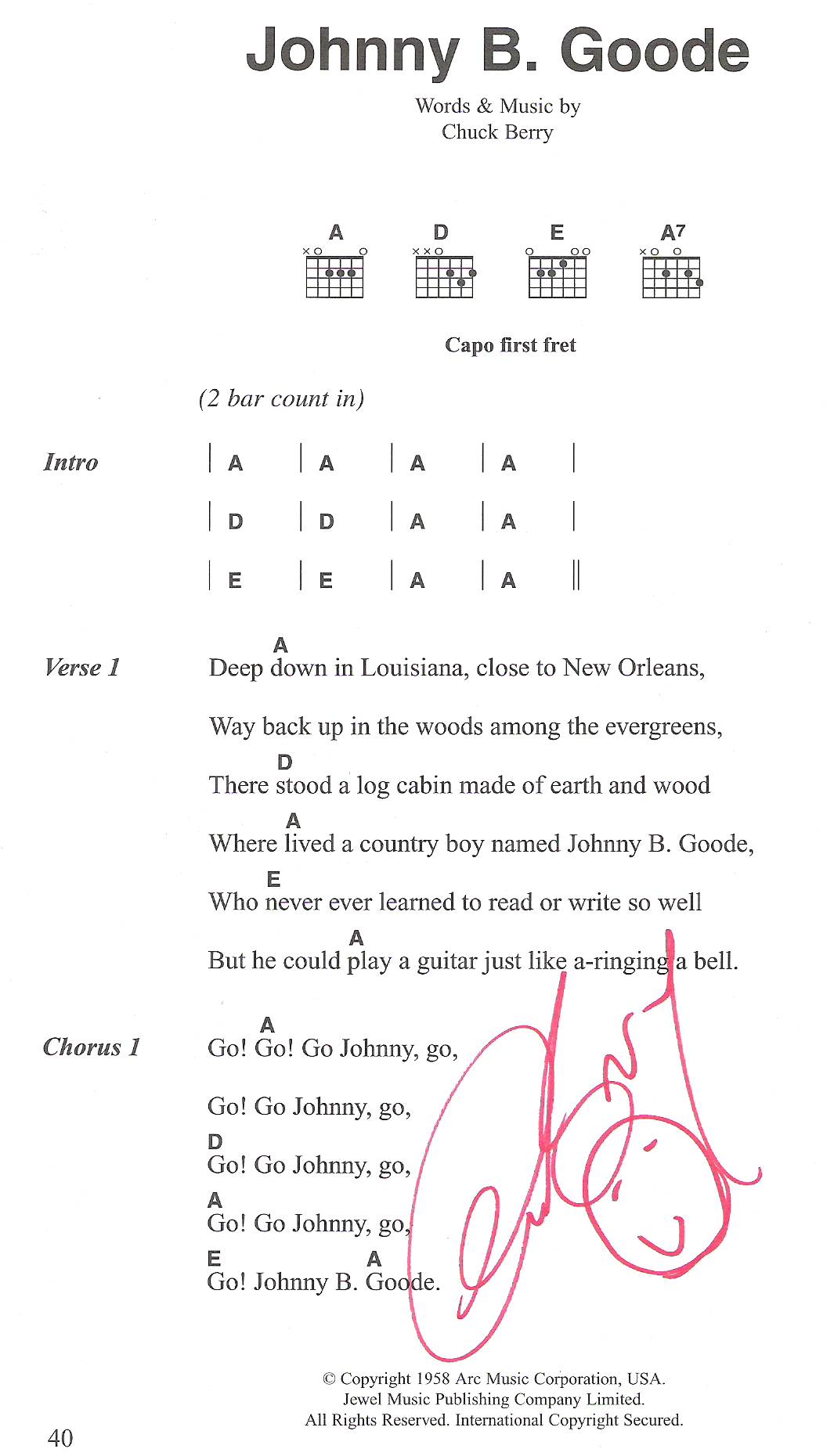 <![if !vml]>
<![endif]>
THE PLAY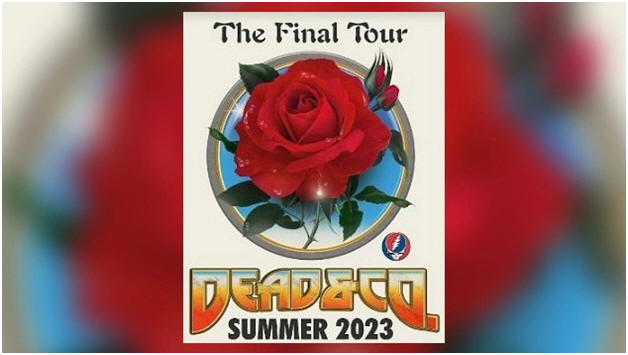 John Mayer on Dead Air 1/17/23:
"Let´s have a graceful like TA-DA!"
"Let´s be aware this is the last moment and celebrate it in the moment."
Setbreaks with DEAD AIR: Gary LAMBERT & David GANS on NUGS.net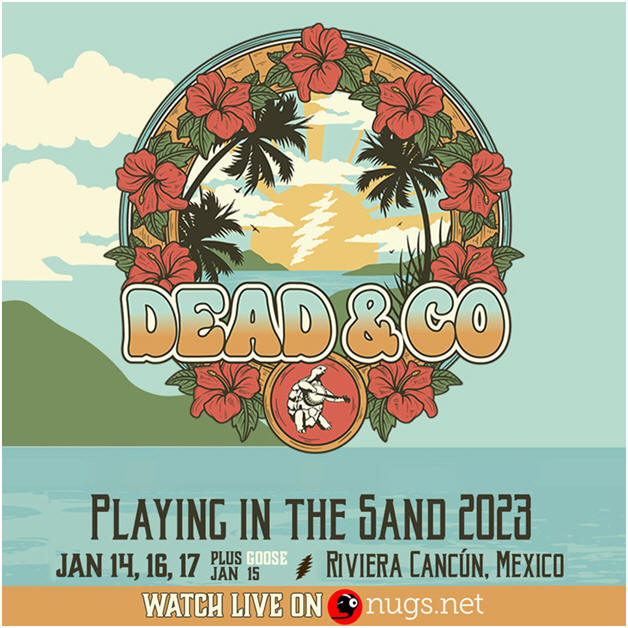 Visit
NUGS.net/deadco
to listen to every Dead & Company show since 2016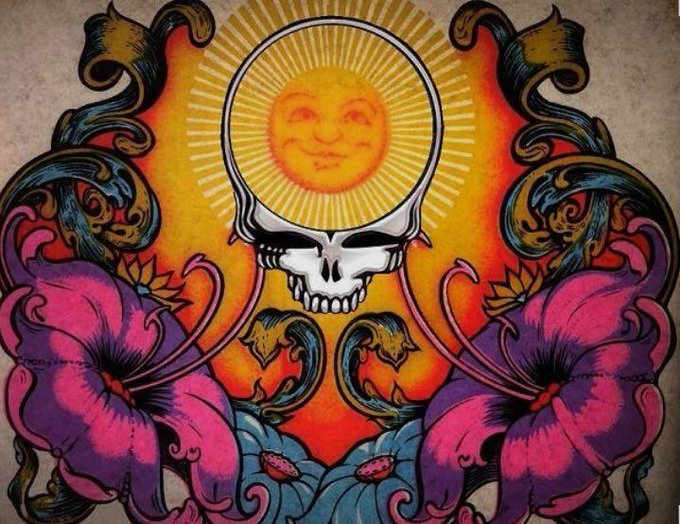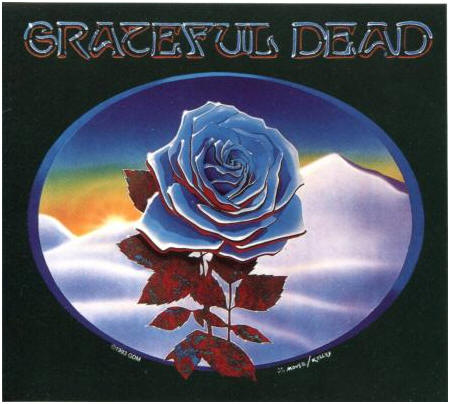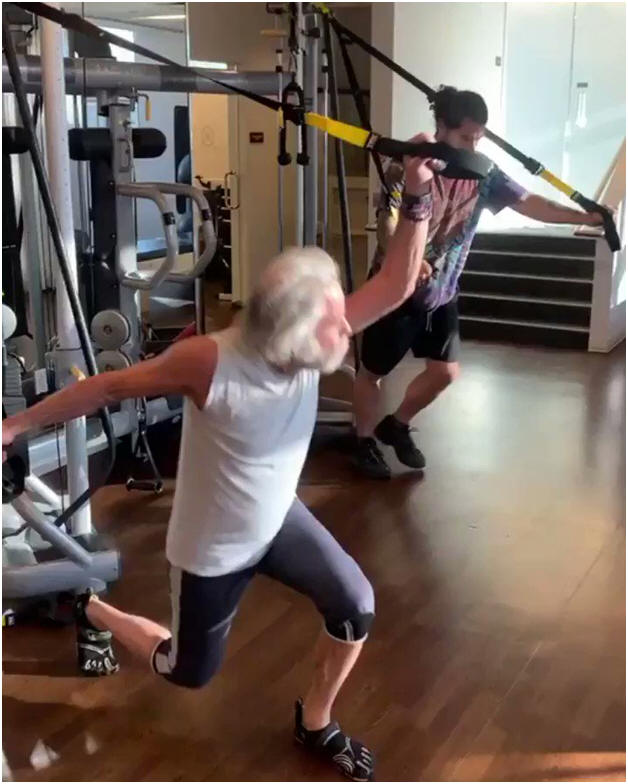 BOB WEIR Gym Safety Advisor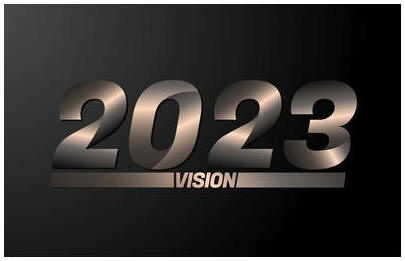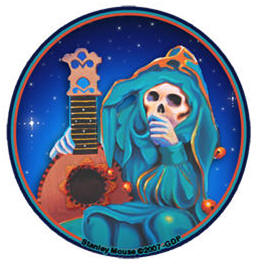 En Español
IRISH Café
"Seeds that were silent all burst into bloom and decay
The night comes so quiet close on the heels of the day"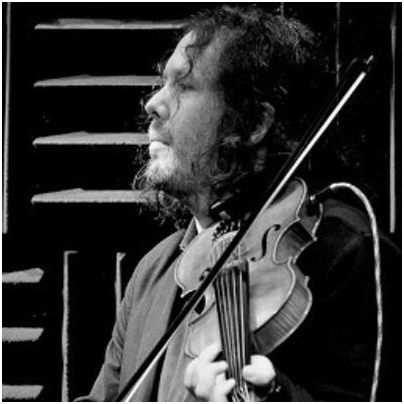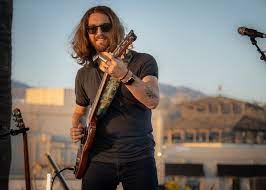 There´s Always A Story
under th
e midnight moon
<![if !vml]>
<![endif]>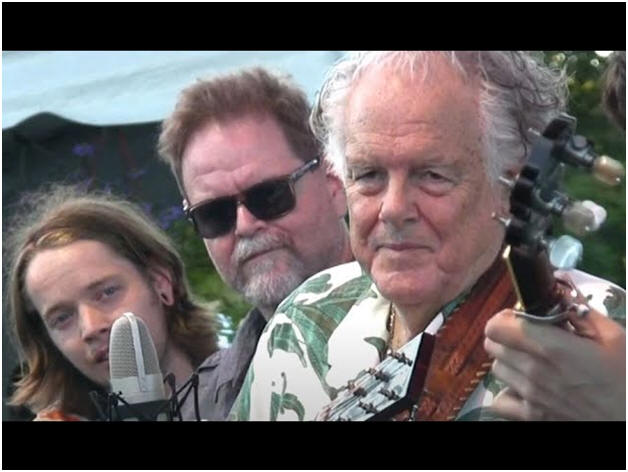 MIDNIGHT MOONLIGHT
<![if !vml]>
<![endif]>
Check out Happy Cat´s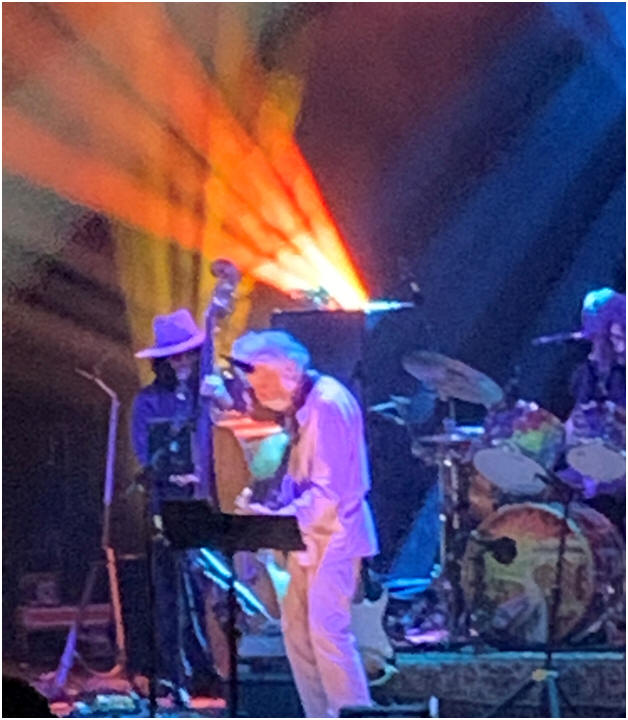 Bobby Weir & The Wolf Pack - San Francisco 2022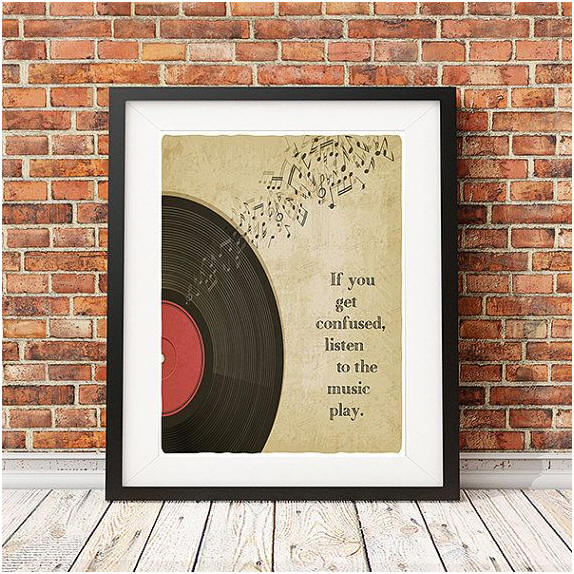 "
She come skimming through rays of violet
She can wade in a drop of dew
She don't come and I don't follow
Waits backstage while I sing to you"
Venerable rock and blues guitarist Joe Patenaude released (2022) SNAPFINGER, an album dedicated to original instrumentals, offering a creative landscape of lush guitar compositions, spiced with a few rockin' blues tunes—Patenaude records and plays on guitars, bass, piano, organ and several vocal numbers, and its mastered by Steve Johnson of Big Blue Studios in Astoria, Oregon. A departure from years of rock, blues and pyschedelia, yet drawing from all, Patenaude musically paints with programmatic themes, musical memories and using his snap fingers, as he refers to, that have been playing the guitars for over 50 years.

Guitar Maestro

Joe Patenaude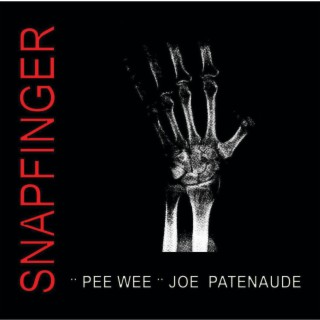 Boomplay Listen

here
<![if !vml]>
<![endif]>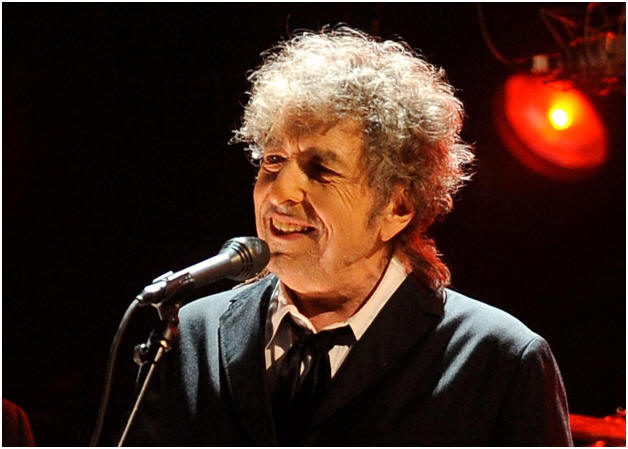 Bob Dylan is more than a singer songwriter poet musician & author.
He´s also an amazing and prolific artist.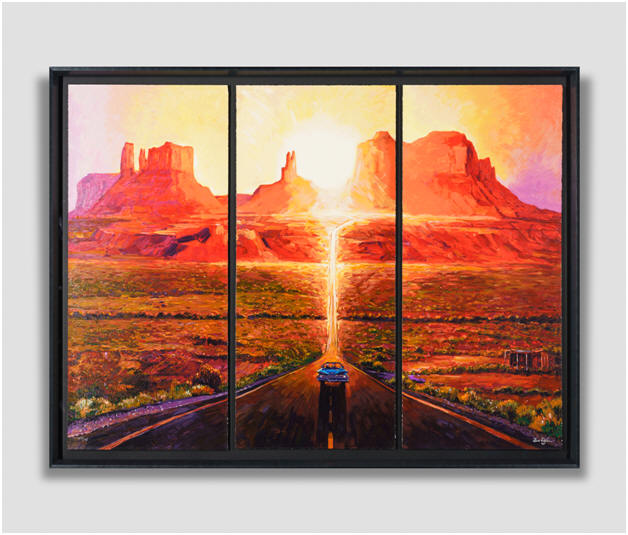 SUNSET, MONUMENT VALLEY, 2022
Artist, Bob Dylan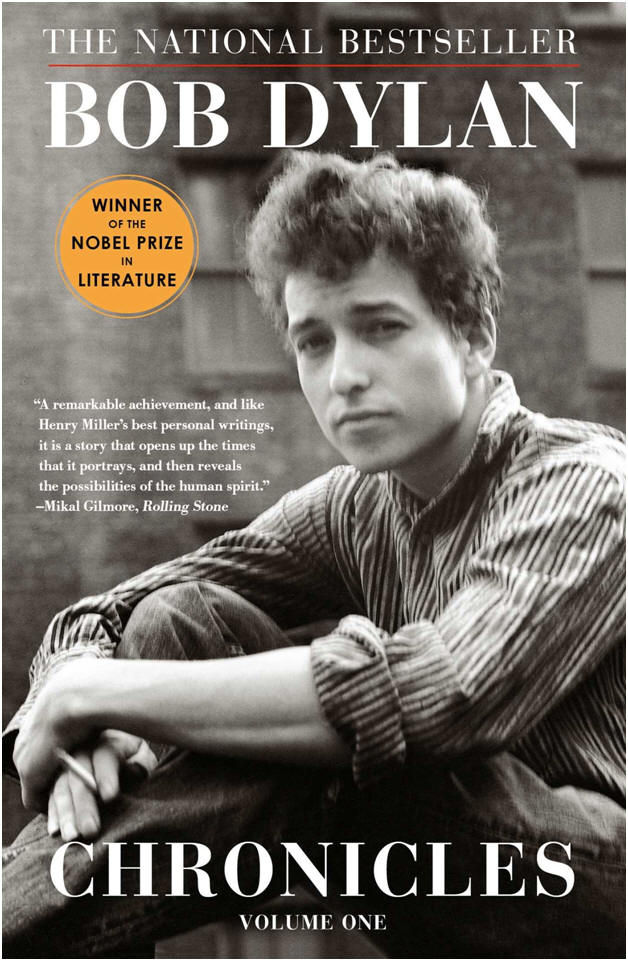 BOB DYLAN´S NEXT BOOK :
THE PHILOSOPHY OF MODERN SONG
AVAILABLE NOW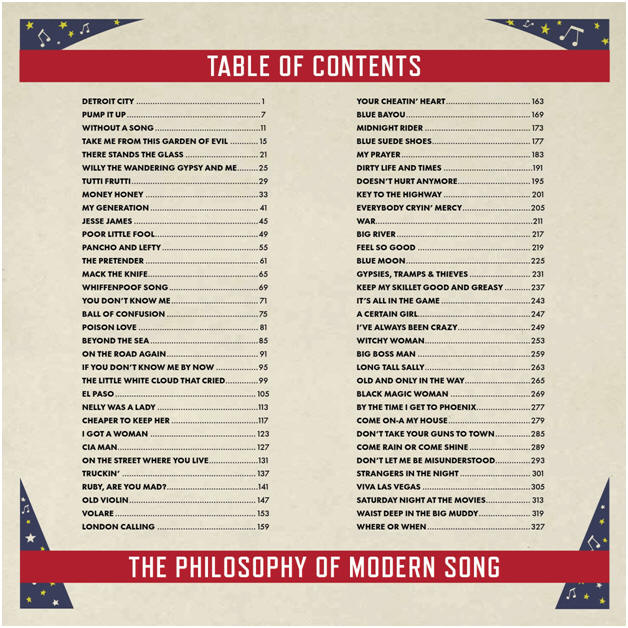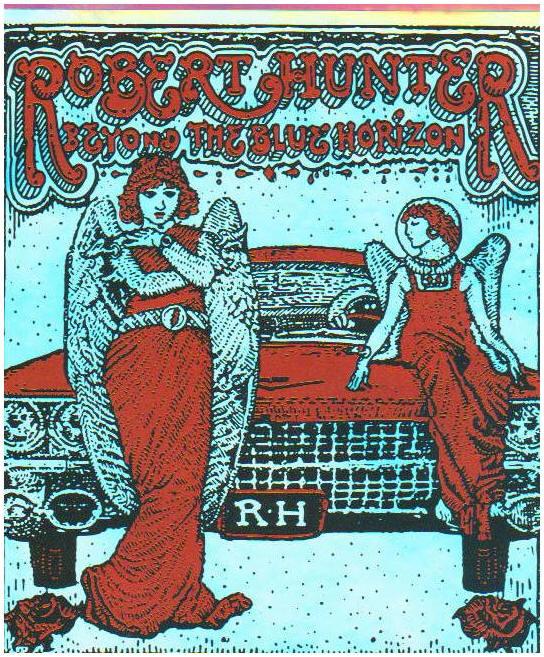 "Fill a need and find it."
"Total invention: something which fills a need which does not yet exist.
After Leonardo DaVinci´s invention of the parachute, the first airplane was as good as on the wing."
--Robert Hunter
"A good way to invent the future is to predict it."
--John Perry Barlow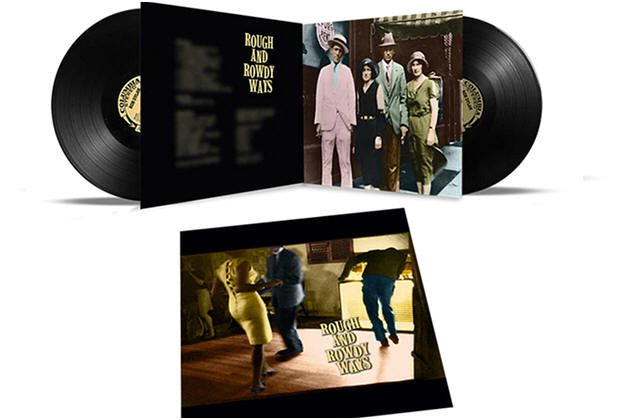 "It's darkest 'fore the dawn (oh, Lord)"
--Bob Dylan from Rough and Rowdy Ways
Uncle John Reviews
Bob Dylan´s Rough and Rowdy Ways Tour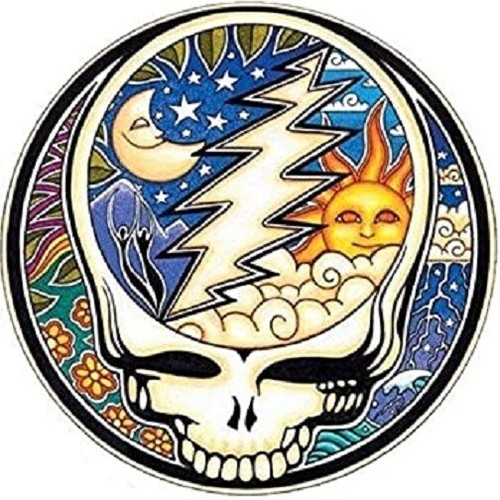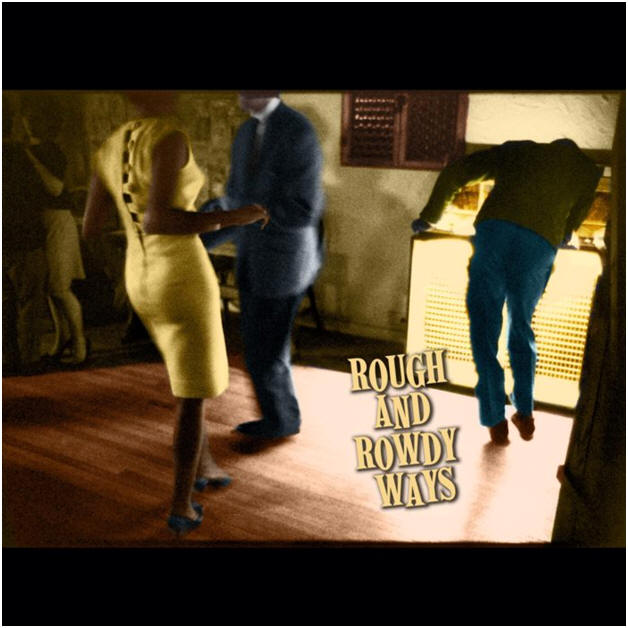 Bob Dylan´s album released 6/ 19/ 20
Bob Dylan´s World Wide Tour 2021-2024
Tour begins November 2, 2021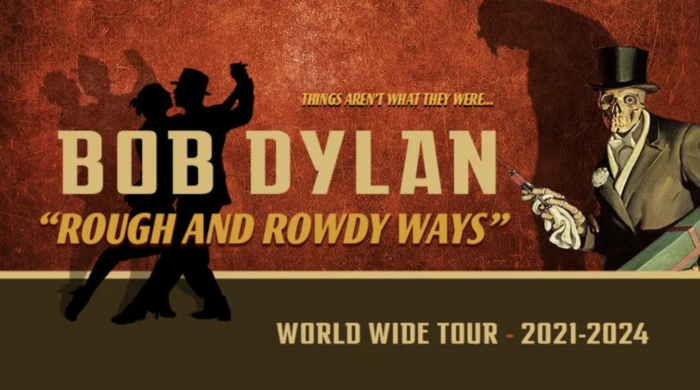 ---
King Solomon & The Queen of Sheba
"There was never a king like Solomon
Not since the world began
Yet Solomon talked to a butterfly
As a man would talk to a man"
--
Rudyard Kipling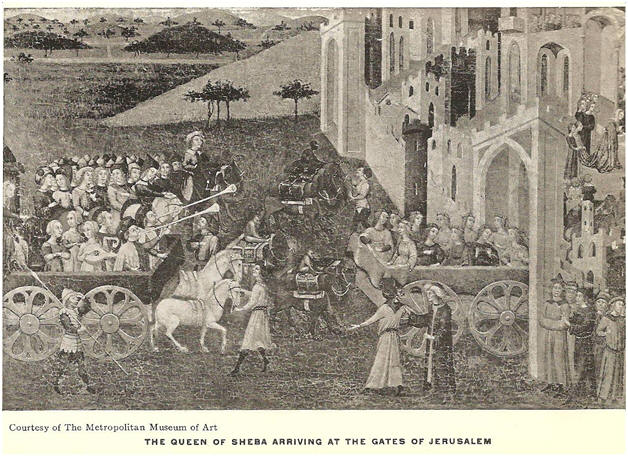 ---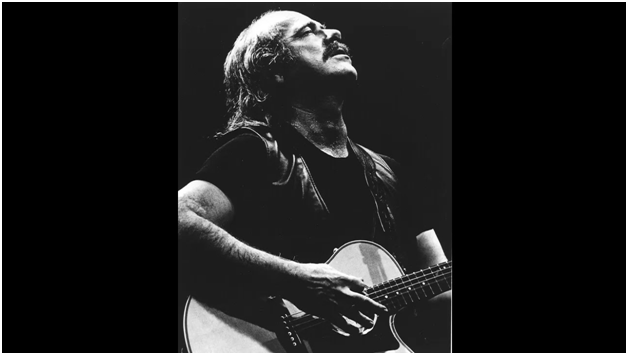 Robert Hunter from his album Jack O´ Roses
---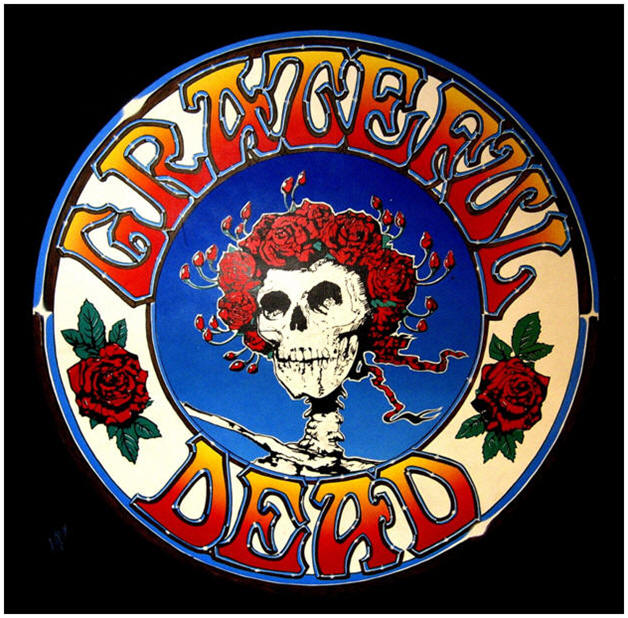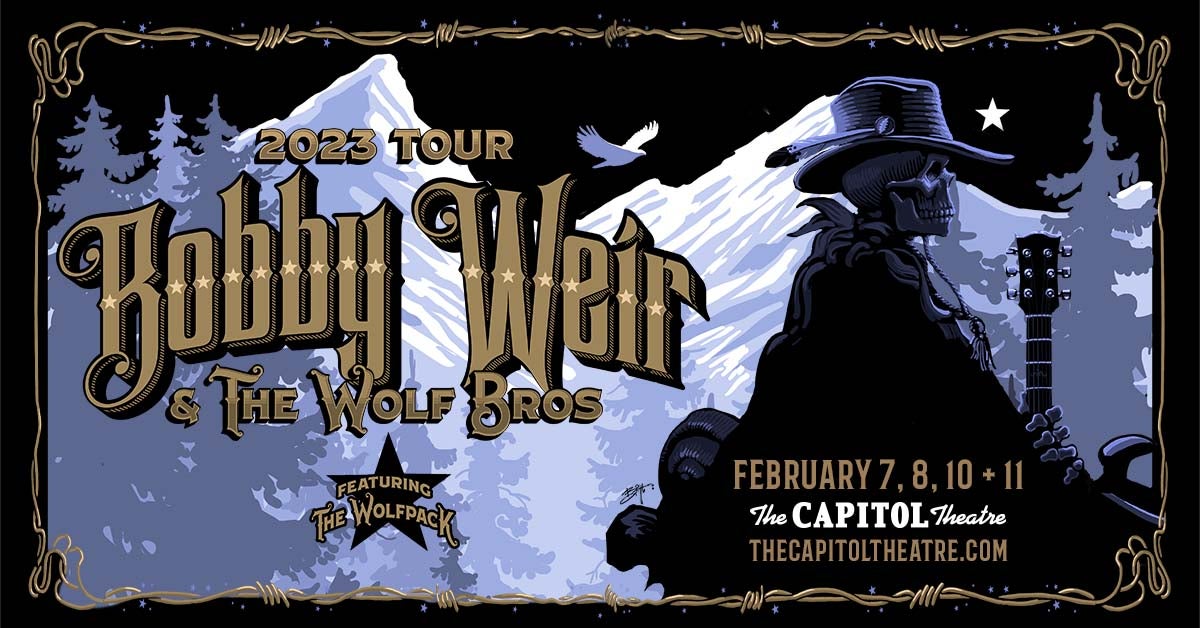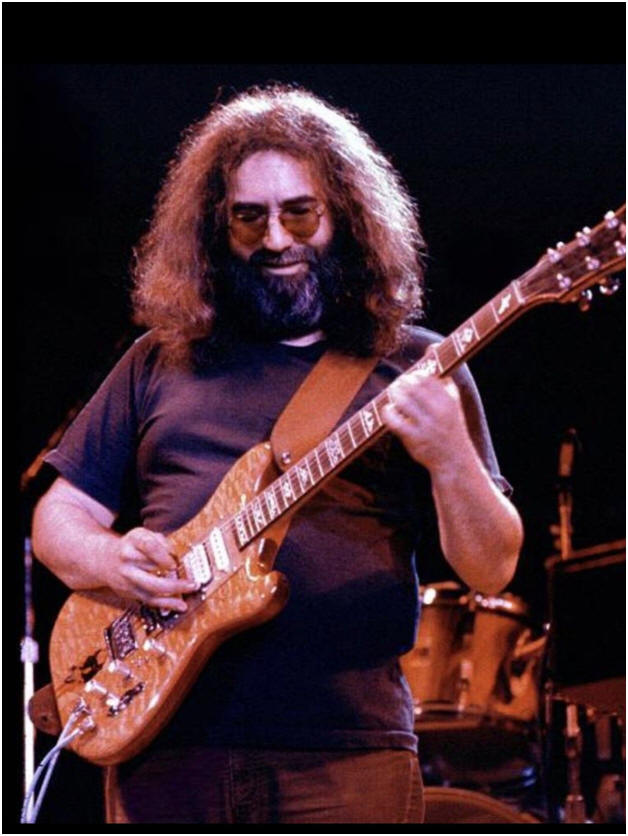 Jerry Garcia Playing his Wolf guitar
"I have a message for you from Jerry¨Rock Scully tells me.
We´re backstage at the Old Waldorf in San Francisco and we sit down in a booth with musician Warren Zevon. Warren is a small man, quiet, watchful, intense, and he is sober tonight. There is a well stocked unattended bar next to us , kind of like a trophy, no bartender, no drinking, and it reminds me of when Warren fell off the stage drunk and broke his leg, "Bad luck streak in dancing school" was his response and the title of his next album.
Rock, the way he´s dressed, looks just like a wolf, reminding me that Warren is the author of ¨Werewolves of London¨, and across the room from us is Wolfgang, that´s what his mom called him, we know him as Bill Graham the premier impresario, and this is Bill´s club holding about six hundred people, a place for big stars to play in front of small audiences.
I´ll send Jerry a letter, I tell Rock, and I´ll see Garcia at his show Saturday night. The first time I met Rock, the road manager for the Grateful Dead, was in an elevator in New York City on his birthday, and he´s the go-between to reach Jerry.
Listening to Warren Zevon, his piano and vocals blasting out ¨When Johnny Strikes Up The Band¨, the notes keep escalating, his voice energizing as an angel´s lifting us as the crowd eats, drinks, dances and is merrily living life like a dream.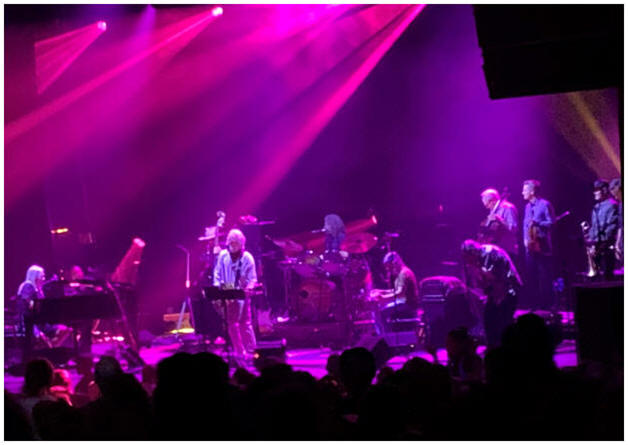 Bobby Weir & Wolf Bros featuring The Wolfpack
WOLF MOON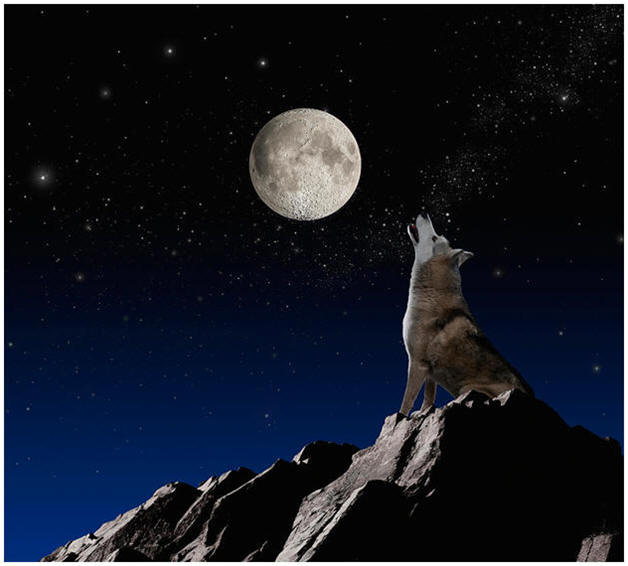 Photo by John Lund
It´s late January, 2021 and I´m awake at 2 am when I hear this loud whining crying human sound that seemed to come from inside the house, then another sound that is like a growling animal sound, loud, but I´m still focused on the darkness inside, searching for the sound. Then I realize it´s coming from outside, and I open the blinds to look out the front window of our San Rafael home, and I see a wolf standing at the edge of the sidewalk in front of the door, his long snout angled up, howling at the moon. Wolves are very rare in California, but I know this one resides locally. Sofia, on the other end of the house, is awakened and recognizes the call of the wolf. I listen to the howling like it´s music. Is this a sign? A few years ago there was a mountain lion in the same spot in front of my doorway. It reminds me of Aldo Leopold´s lesson about wolves in "Thinking Like A Mountain" that characterizes ecological thinking. "Only the mountain has lived long enough to listen objectively to the howl of a wolf." Having once believed that the eradication of predators, the wolf and mountain lion, would preserve the deer, but didn´t recognize the imbalance it caused, Aldo transformed his thinking to recognize the wolf with a sentiment of ecological integrity. He understood the nature and mystery of the howl. I listen for several minutes, amazed that the animal does not go away, and the howling is louder than any other animal I´ve heard outside. I ran to my room to get my phone to realize I could take a picture. I looked through the peephole of the door and he´s in the same position howling, and as soon as I open the door, the wolf runs away.
I didn´t realize it was January´s Full Wolf Moon until I read Bob Weir´s twitter feed when I got up:
"Welcoming in the first Wolf Moon of 2021! Occurring in Leo, it's said to be the luckiest and most prosperous day of the year. The sun shares its light with the generosity of Jupiter, marking new and bright beginnings...
The wolf does more than howl to communicate. They whimper and whine, growl and bark, yelp and snarl, smell, about 100 times stronger than our ability , as is their hearing and sight, they are strong with sharp teeth, and they fear humans and tigers, but humans are not their enemies and they will not attack unless provoked or threatened. The wolves can be our brothers, protectors, workers and lovers as their mates and mothers feed their babies with milk. They travel in packs.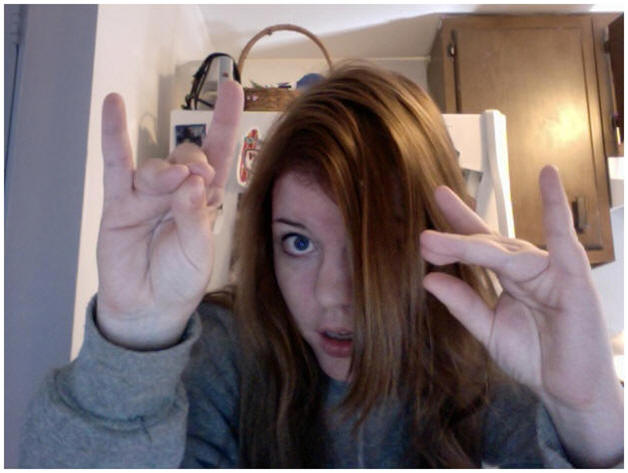 The wolves come to play, prancing with their fingers, happily, and causing others to dance merrily, rump in the air and bushy tail wagging.
---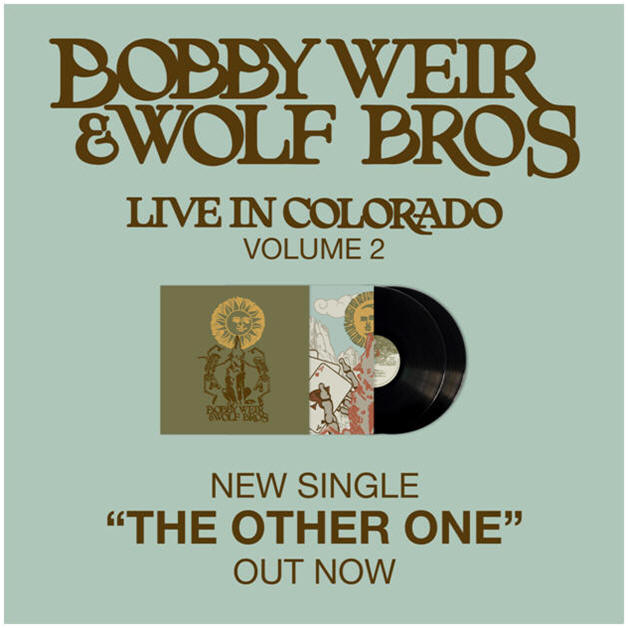 Listen here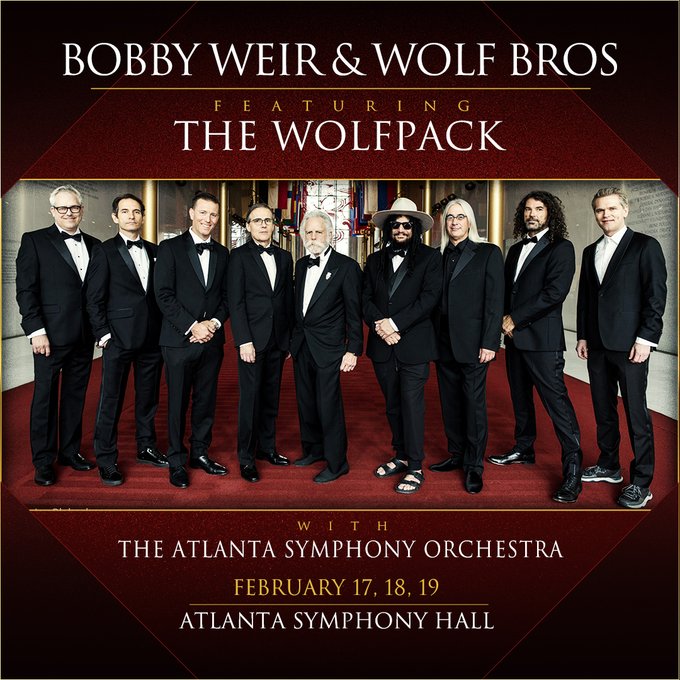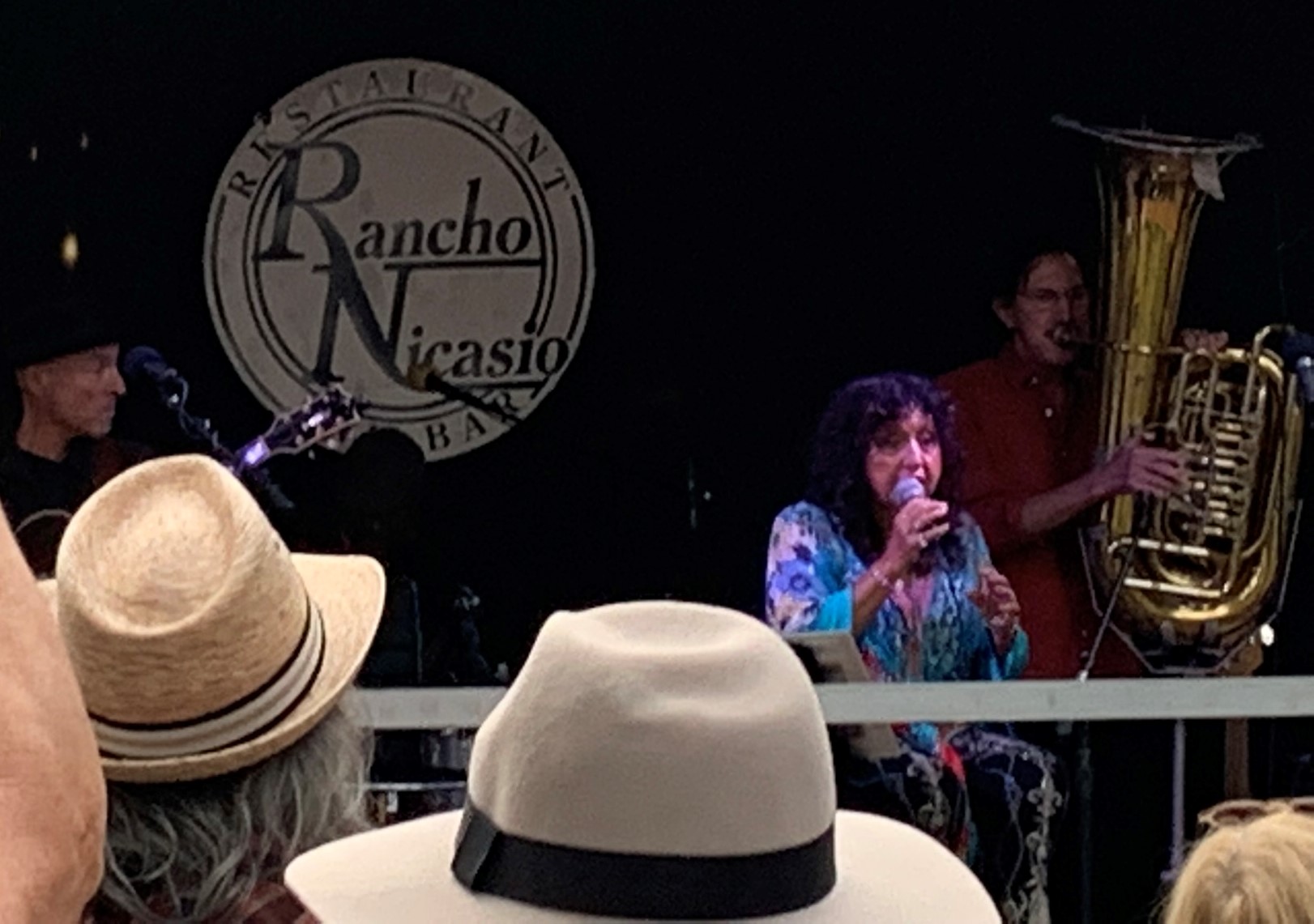 MARIA MULDAUR´S 80th Birthday Celebration September 2022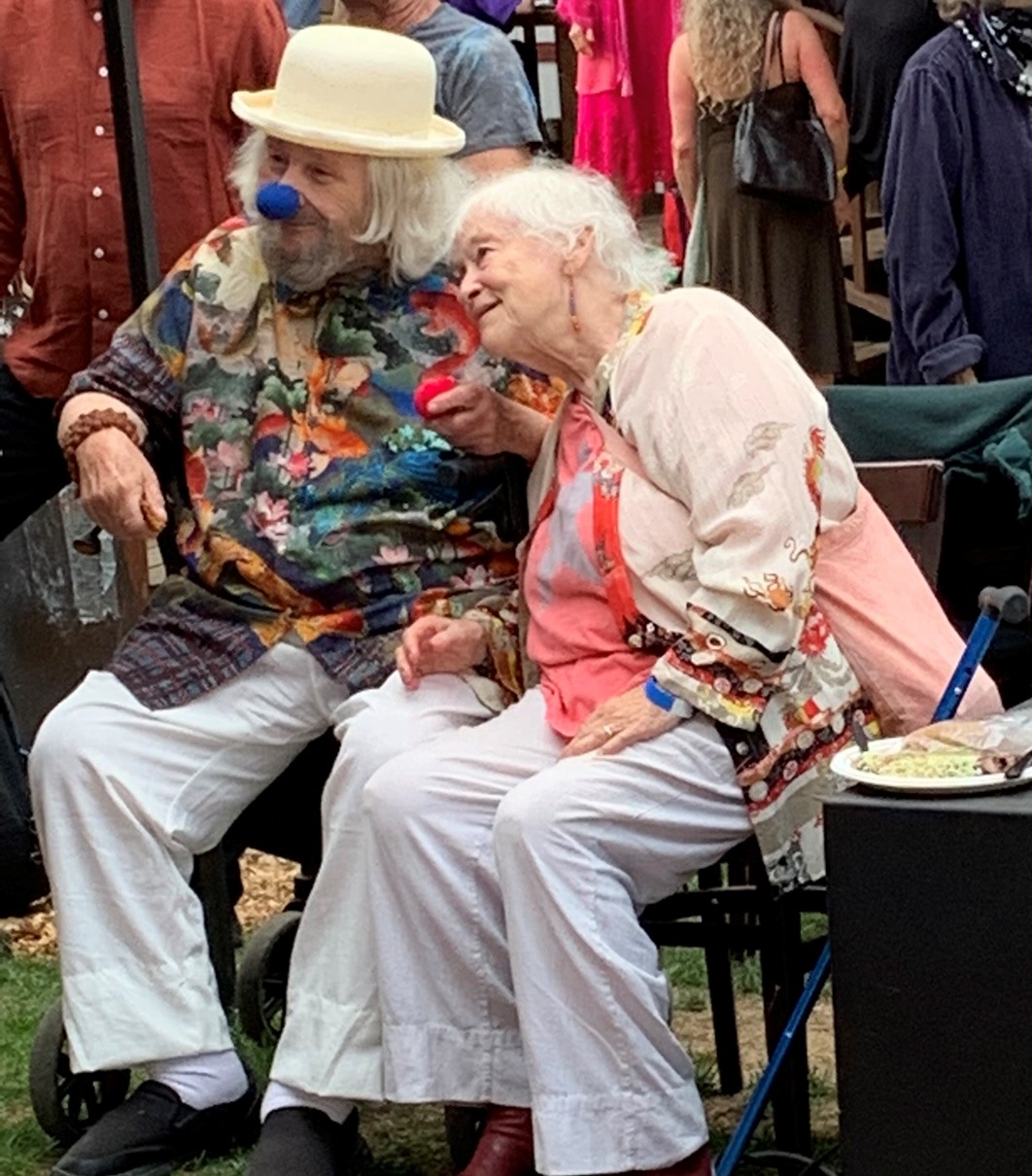 WAVY GRAVY
.name
"And I call her 420"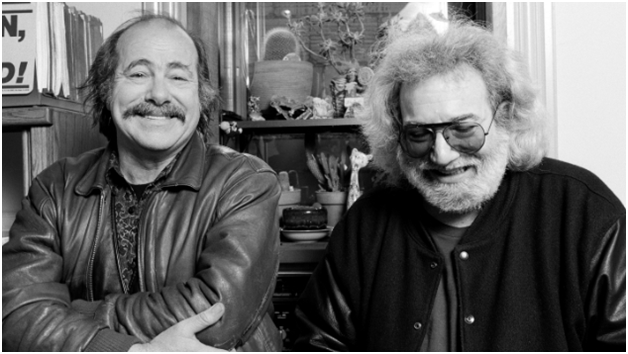 Robert Hunter & Jerry Garcia
Photo: Jay Blakesberg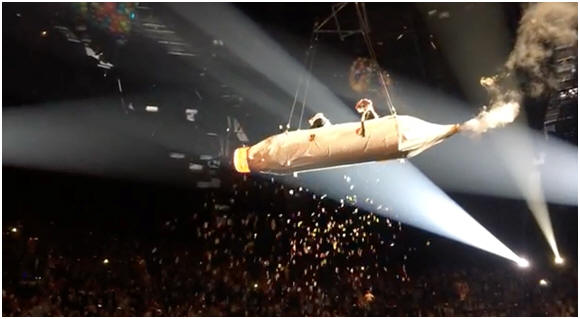 dead & company Flying Car
---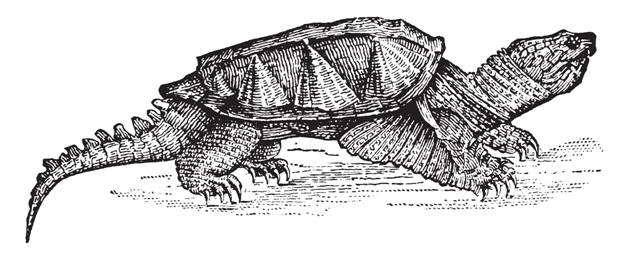 ---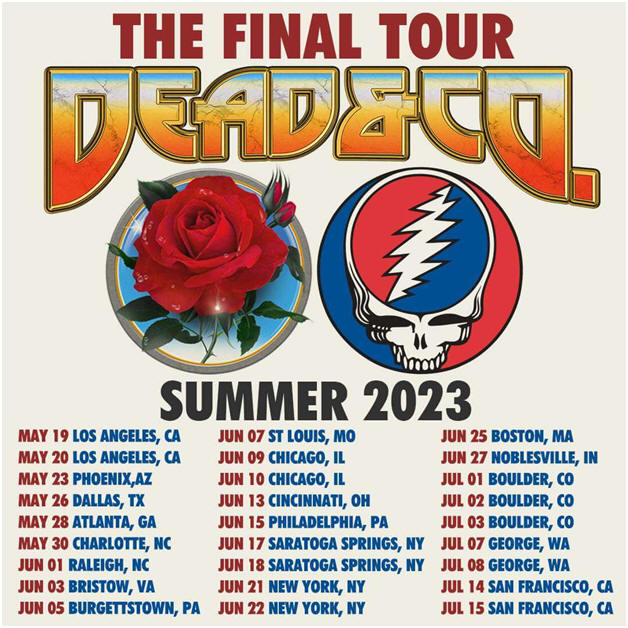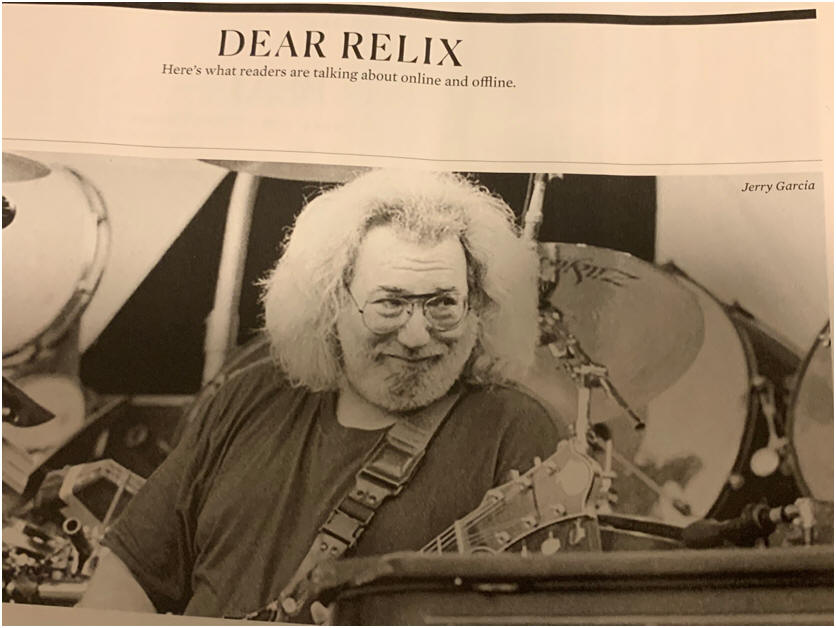 View
here
: David Letterman & Jerry Garcia play Scrabble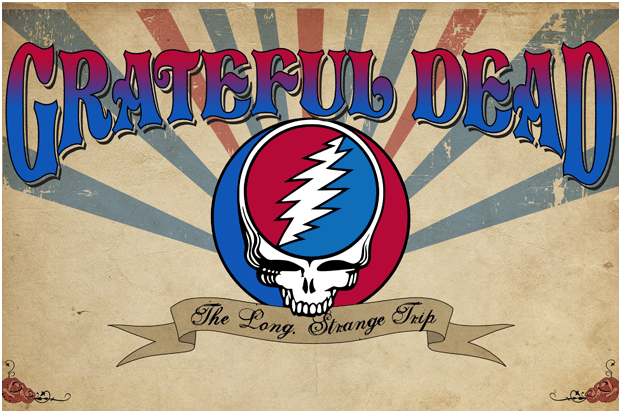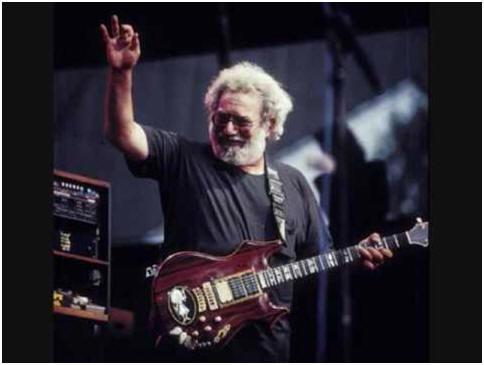 The first time I am backstage with the Jerry Garcia Band, I'm sitting at the main round table listening to Jerry Garcia carry on a half dozen lively conversations at the same time. He is astutely following each one and contributes brilliant observations, upbeat, with a good deal of laughter. I finally capture his attention with my eyes and interject a question, "Have you seen the movie Close Encounters of the Third Kind?" I ask him, not realizing he had a cameo in the film. He immediately replies, "Im not answering anymore questions until we find out who you are." There is suddenly silence in the room. And I introduce myself as
"Uncle John"
"That improves things considerably,"
Jerry Garcia responds, lifting his eyebrows with a twinkle, and smiles, and the banter in the room resumes.
---
---
---
---
MIDNIGHT NORTH
performs
Coyote
with Amy Helm and Mikaela Davis
Live at Levon Helm Studios 2-27-2022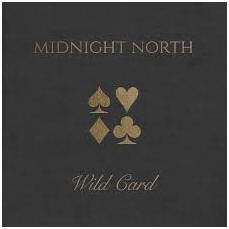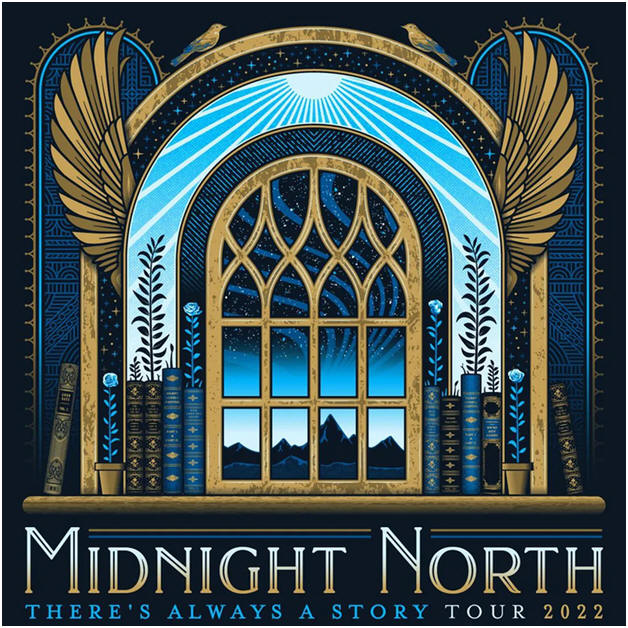 Selections From Levon Helm Studios Tracklist
Earthquakes

Good For You I Guess

Wind and Roses

If It Takes A Lifetime (Jason Isbell)

Everyday

Luxury Liner (Gram Parsons)

Coyote

Playing a Poor Hand Well

Under the Lights

Don't Do It (The Band)
---
---
"Find a need and fill it."
--Robert hunter
---

https://www.dead.net/deadcast/donna-jean
---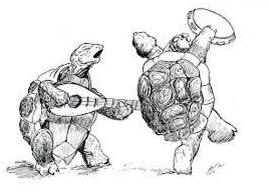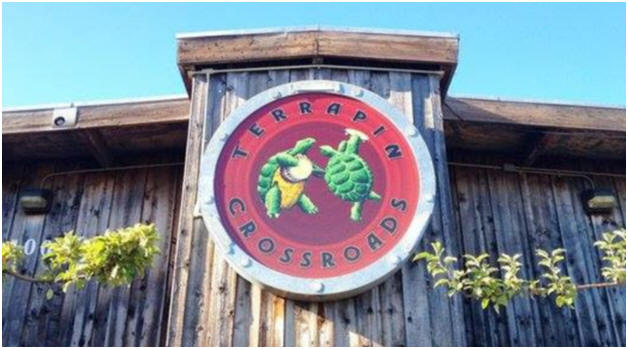 How sweet the sound
with delicious food
& festive smiles in friendship gatherings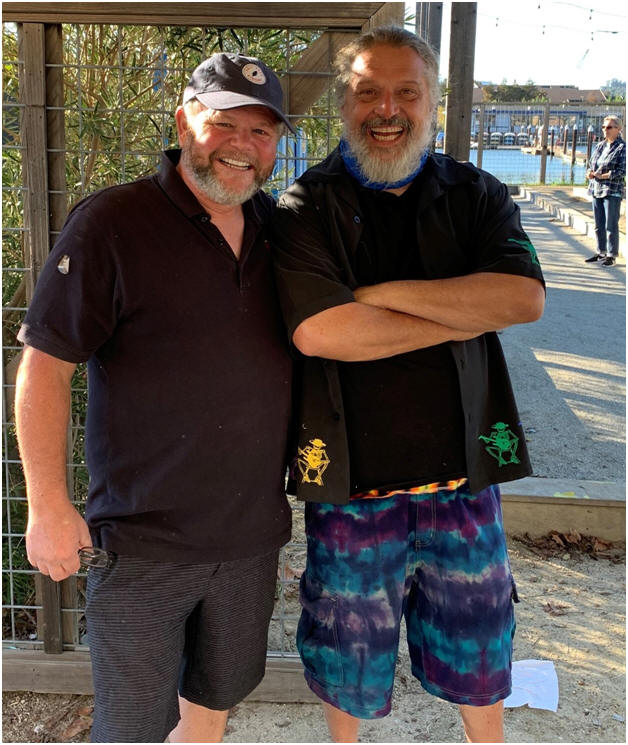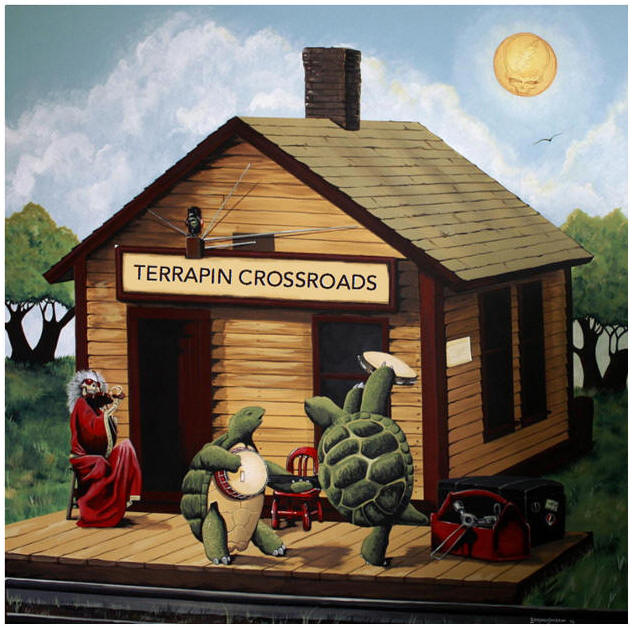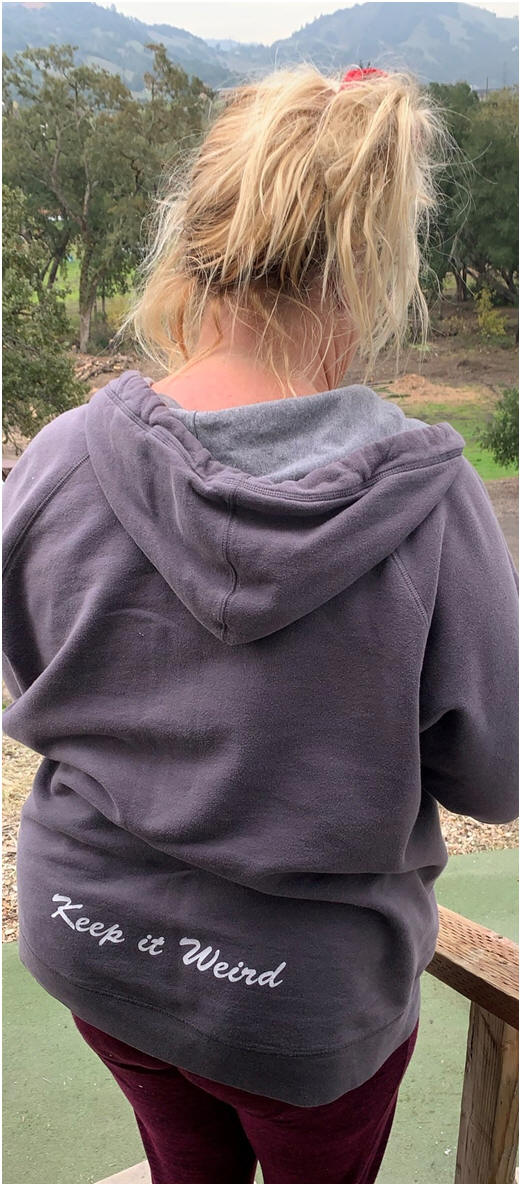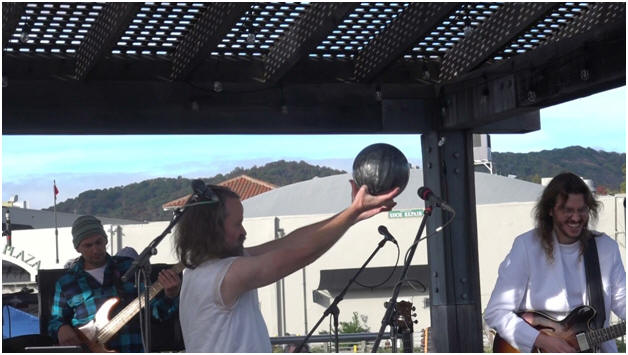 Set 2: WATCH->Deadheadland Television
Terrapin Crossroad's Backyard Stage, Beach Park, San Rafael California. 10-31-2021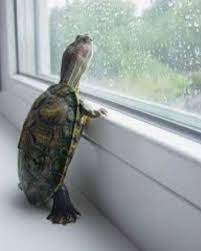 ---
---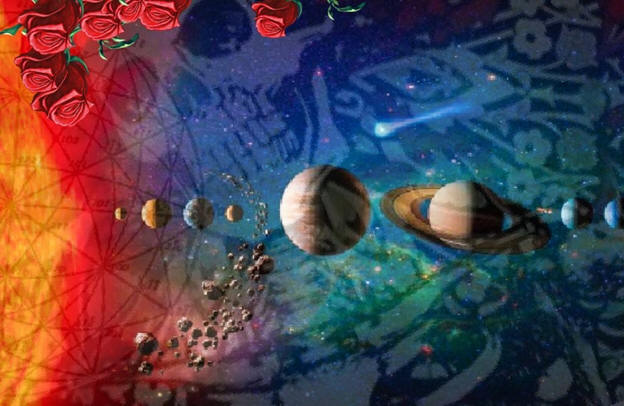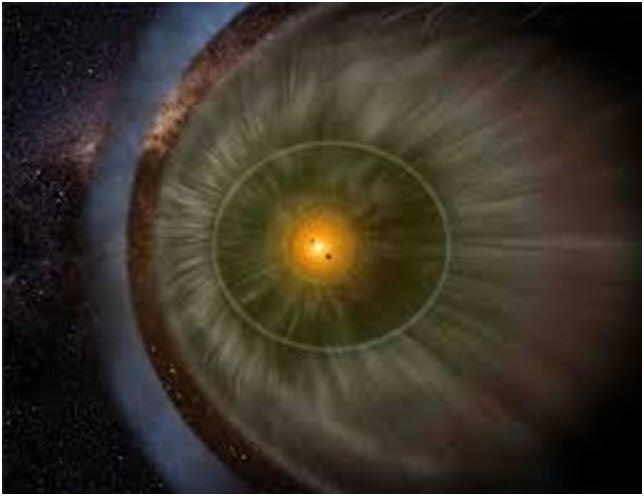 Snapshot of our solar system
captured by Voyager 1,
1st man-made machine to fly into interstellar space
We´ve Never Seen This Before
WEBB Telescope First images unfolding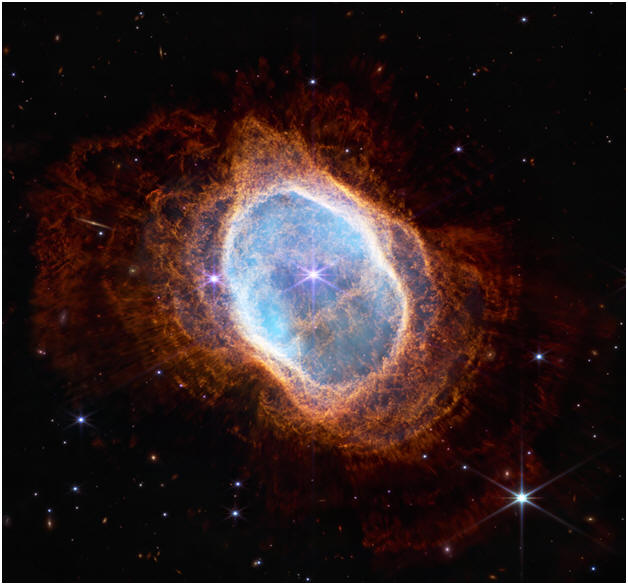 Courtesy, NASA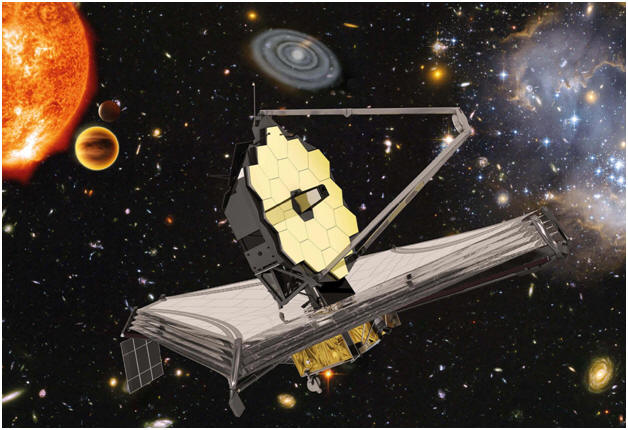 Golden Record Manual for Visitors from Interstellar Space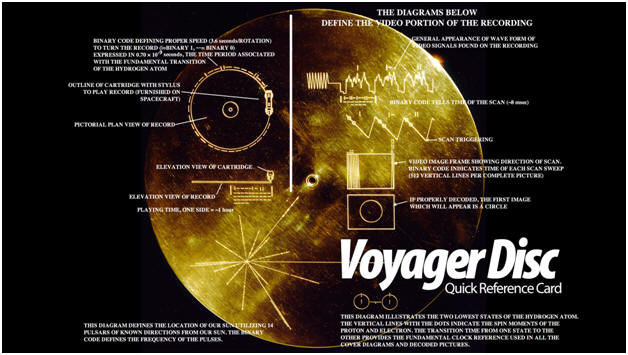 Thanks to NASA
---
RAINDANCE
THE PLAY
by Uncle John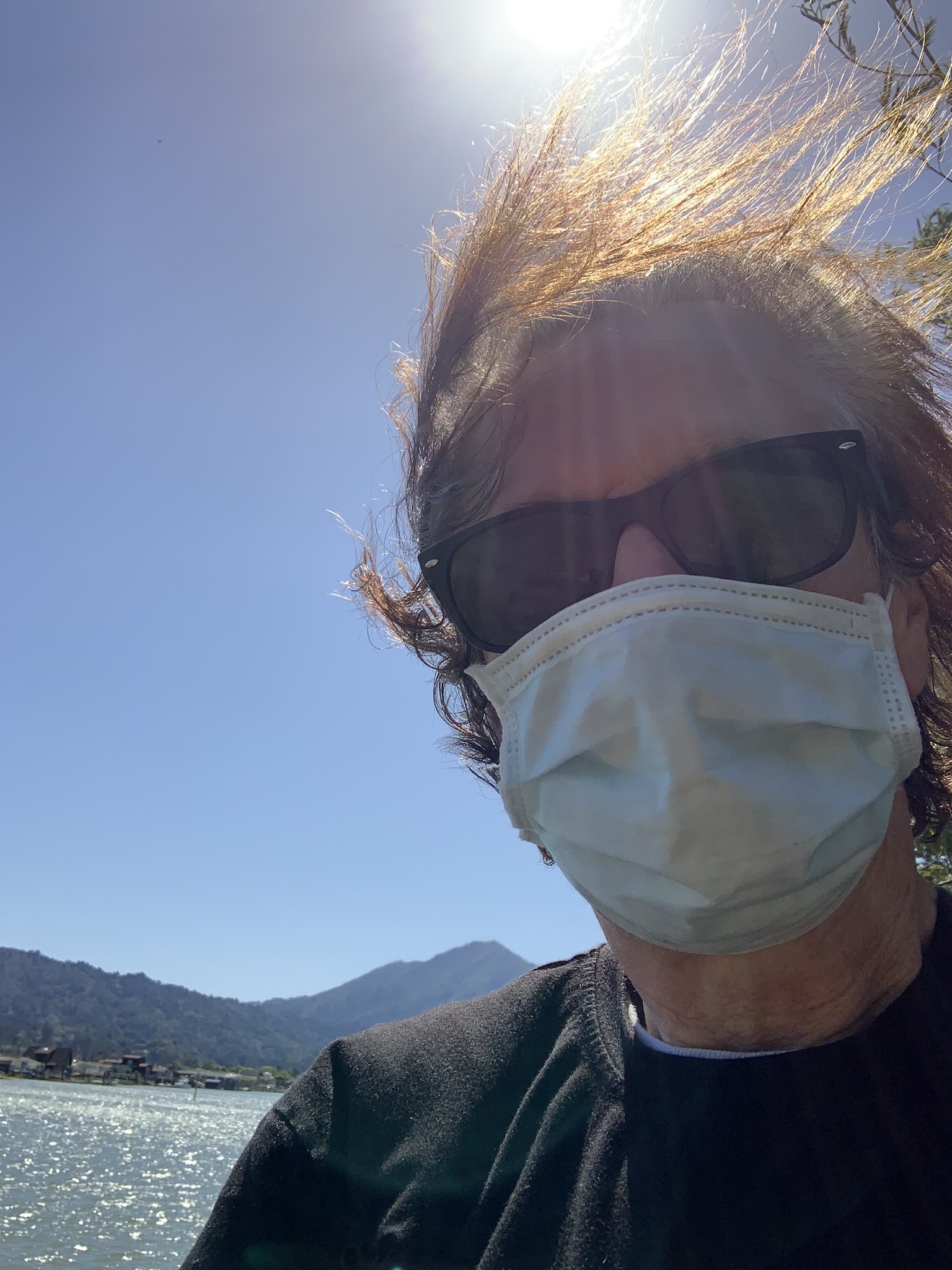 Characters
Storyteller
Sundance
Raindance
Lady Liberty
The Joker
The Purple Sage
The Hermit
Daniel Rafael
Michelle
Pretty Peggy
Ida Red
Billy Dee
Jesse
Freya Chanteur
Johnnie Walker
Harry Jardiniere
Maria Bonita
Seven Gypsy Women
Bobby "Sugarfree" Sugaree
Rainbow
The Magician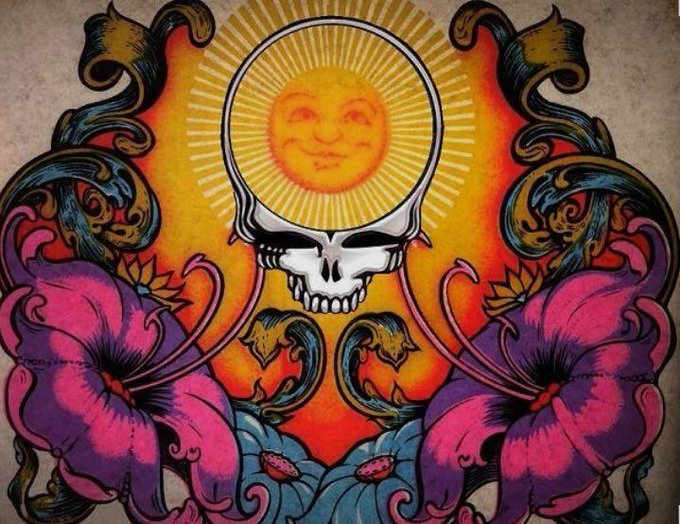 ---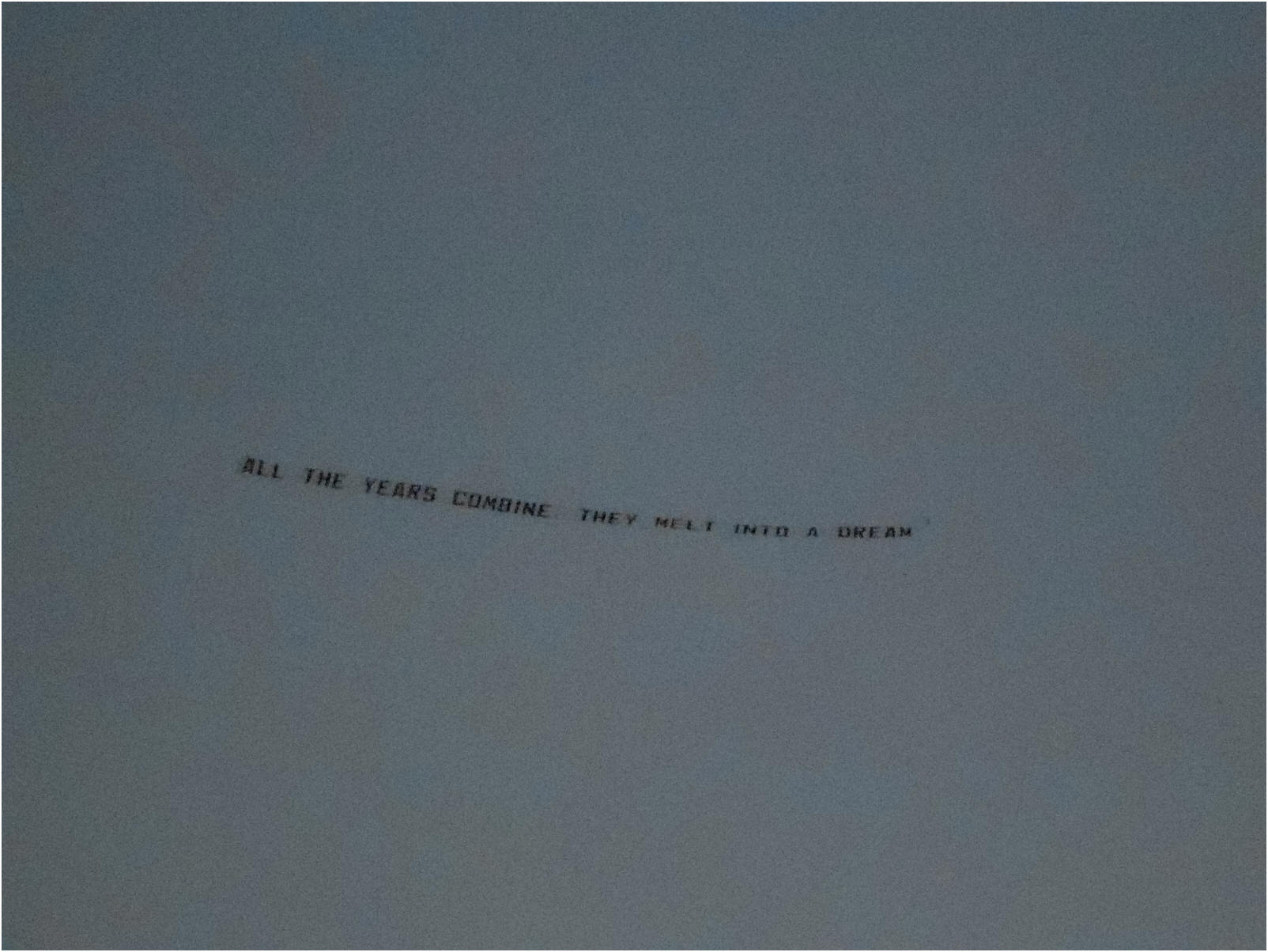 © 2023 SPECIAL PERMISSION
ALL RIGHTS RESERVED.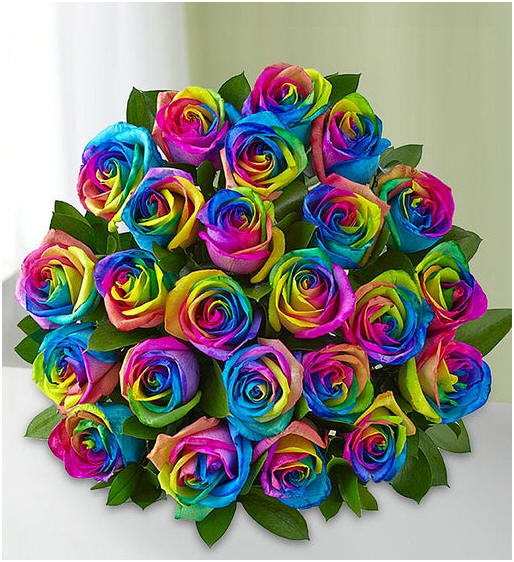 UNCLE JOHN'S BLOG @ http://www.air.bz
ALL MATERIAL IN THIS WEB SITE PROTECTED BY:
THE DIGITAL MILLENNIUM COPYRIGHT ACT,
THE COPYRIGHT LAW OF THE U.S.A.
AND BY INTERNATIONAL TREATY PROVISIONS.
ALL RIGHTS RESERVED.