.com
JUNE 1st & 2nd
PLAYIN' IN THE BAND:
<![if !vml]>
<![endif]>
Photo by Neal Casal
gET TICKETS:
WWW.TERRAPINCROSSROADS.NET/TICKETS
JUNE 3rd & 4th
DEAD & COMPANY
<![if !vml]>
<![endif]>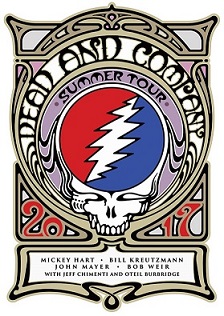 DEADANDCOMPANY.com
sUMMER tOUR 2017
<![if !vml]>
<![endif]>
<![if !vml]>
<![endif]>GRATEFul dead


<![if !vml]>
<![endif]>
click here:FARE THEE WELL DVD/CD release
<![if !vml]>
<![endif]>
hh
<![if !vml]>
<![endif]>
TERRAPIN 1977
<![if !vml]>
<![endif]>
MAy 10 & 11, 2017
pHIL lESH & TERRAPIN FAMILY BAND
celebrate may 8 & 9, 1977 the best of the best
tERRAPIN CROSSROADS, SAN RAFAEL, CALIFORNIA
<![if !vml]>
<![endif]>
Blue Mountain
BOB WEIR'S NEW ACOUSTIC SOLO ALBUM
A deeply personal collection of music inspired by the ranch stories and fireside songs of Bob's youth, told with amazing wisdom and heart.
BOB WEIR
NEW CAMFIRE TOUR DATES
phil lesh & the terrapin family band PLAY 1977
MAy 10 & 11, 2017
Available for future unannounced 1977 shows
MAY 3, 2017
TODAY PHIL LESH & BOB WEIR SING
very special SONGS TO PHIL THE AIR
IN PHIL'S BACKYARD @ TERRAPIN CROSSROADS
with Grahame Lesh, Jason Crosby, & Scott Law
$12. SOLD OUT
DEAD & COMPANY
I walk into terrapin crossroads bar after midnight and see John Mayer for the first time. He's playing guitar with Phil Lesh and the band. It's the most exciting, intense momentous time. phil lesh looks up and smiles. New deadhead John Mayer is a guitar player extraordinaire, and the rapport is felt throughout the room.
I see dead & company at the fillmore in San Francisco with john mayer playing with bob weir and other grateful dead members in a new band they call dead & company. Someone in the audience calls bob weir a "sagacious Dad & deadhead grandfather."
I see their new year's eve shows in Los Angeles. john mayer plays guitar while he's watching bob weir play guitar while bob's watching john. it's like they're looking in a mirror playing to themselves in front of a universal audience. john adds pop to this band that includes Bill kreutzmann, Mickey Hart, jeff chimenti & oteil burbridge. i love the songs they play and the way they play them. John mayer adds great guitar licks to complement rhythmic bob weir at his vocal best.
yOU REALLY HAVE TO HEAR THIS BAND TO APPRECIATE THEM!