RAINDANCE
The Play
by Uncle John
Art Work by Michael Waters
Music by
Uncle John & Tobey Stein & Gary Sangervasi
Grateful Dead
& Bob Dylan
Special Thanks to Playwright Lauren Gunderson
Spanish translation by Tania Carrasco
Characters
Storyteller
Sundance
Raindance
Lady Liberty
The Joker
The Purple Sage
The Hermit
Daniel Rafael
Michelle
Pretty Peggy
Ida Red
Billy Dee
Jesse
Freya Chanteur
Johnnie Walker
Harry Jardiniere
Maria Bonita
Seven Gypsy Women
Bobby "Sugarfree" Sugaree
Rainbow
The Magician
THE SECRET BOOK
Storyteller:
Raindance reads from THE SECRET BOOK, and The Magician appears.
Raindance
:
WThen the flood of rain had stopped and the waters started to recede. Noah waited, then sent one of his doves out to scout for dryland. The dove returned for there was not yet dry ground. Still, the ship stayed afloat for the whole world was under water. Noah waited seven days and again sent a dove out, and this time when he returned, in his beak was a freshly plucked olive leaf, and this signalled the beginning of a new world.
The Magician:
There are two olive trees and two bright candles.
And you a wild olive shoot,
Have been grafted in among the others,
And now share in the nourishing sap
From the olive root.
<![if !vml]>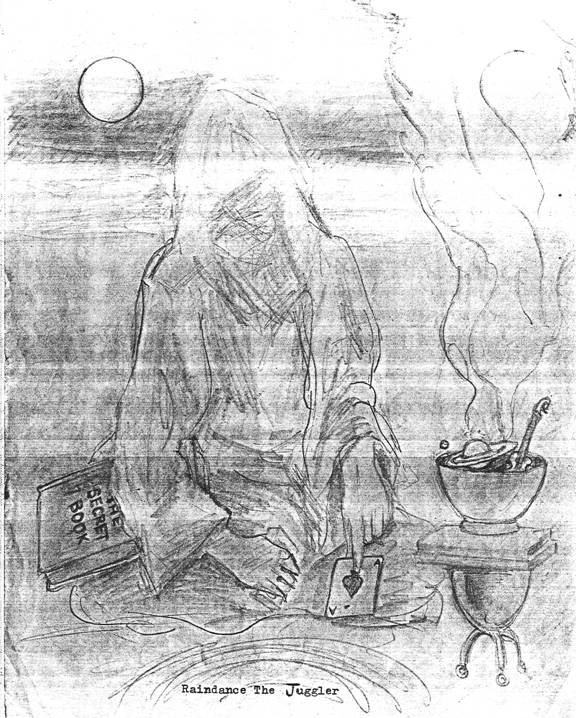 <![endif]>
RAINDANCE
Art work by Michael Waters
The Raindance family tell their story in tales, through poetry, songs, art, and dance.
RAINDANCE
Acts and Scene descriptions in development
Here are some EXCERPTS from the play
The prequel

Storyteller:

Once upon a time there was a true rainmaker. His name is Charles Mallory Hatfield. In southern California in the early 1900s, there was a great drought. Charles was a pioneering meteorologist and a man with strange inventions. One was a "humidity accelerator" that, according to him, could make it rain. In Oceanside, California, he went to the top of the tallest towers and mixed high-smelling fetid chemicals, and in five days it rained an inch of rain all over the city. Hatfield the Rainmaker's fame spread. In 1916, the San Diego city council, desperate for the rain, agreed to pay Hatfield $ 10,000, a huge sum of money, later, if he could fill the local reservoir tanks. He mixed his chemicals on tall towers and soon it started to rain, and it rained, rained, and rained. The reservoirs overflowed and the rain flooded the streets, houses, businesses and the entire city. When it finally stopped raining, Hatfield stopped by the town hall offices to collect his "rain check." The council refused to pay. They said they hired Hatfield to fill the reservoirs only, not to flood the city.

Storyteller:
Liberty Coruzzo wears roses in her hair
She still attracts a crowd
who all cry out at her & stare
get drunk and laugh out loud
Foxy boys chase young girls & chat with
beautiful women with butterfly hairpins
The old timers cheer at the sight of
Liberty on the back of a terrapin
singing like leaves blowing in the wind
Daniel:
We were at the carnival fair
and noted when the times were so good
We climbed the stone stairs past the turn in the street
where we recalled our childhood
We ran into Ida Red & the queen of the magazine
Michelle & I
among the crowd and smoke
the endless noise and scenes
Storyteller:
Freya Chanteur sings with the band
She holds a tarantula painted on a rouge-colored fan
and with a wave of her hand
sees the face of Jesse in the crowd
and cries with her eyes clear and loud
She falls in love with his gentle stare
Time passes through his fingers in her hair
In a public act of loyal tradition
she marries the gypsy on a terrapin
Daniel:
We went to the Tally-Ho tavern
to see a fiddler's contest held there
We were amused by this unusual lady &
knocked out by the perfume in the air
We watched from the window the wanderin' and weary
in their chameleon webs in the thick of night
In the distance there is the faint sound of misty bells
while they visit the world through slits of their shells
"Daniel Rafael" Michelle introduces me
Michelle:
I'd like you to meet pretty Peggy the mysterious lady
She comes from eastern Europe
Her father's an investor
She's got some money & knows what she's after
She plays in the pool parlor in Breakfast Alley
Daniel:
One night she drove Michelle & me & Liberty
out to the valley &
led us to a hermit's cave
where he lit a lantern played guitar and sang
Hermit:
It's gotta be all or nothing at all babe
Michelle:
His hands are as cold as ice
yet I can see sweat pour from his brow
I look at the lines on his face
He survived an ordeal he wouldn't tell now
Peggy:
We were drinking wine on Alligator Mountain
I expressed love greater than mine
and he turned to me in perfect mime
Hermit:
My heart is an open book to you
Red sails in the sunset are overlooking you
You better know what you're doing
Peggy:
Like true love I never felt like this
Storyteller:
He's been on live stages and what he practiced was kind
He knew fugitives and sages & found few of similar mind
He walks out of the pages like a knight on the road that winds
and breaks the cages of ephemeral walls to find
Peggy:
He went round about the river and didn't come back till he was grey
He retreated inside a palace on the edge of the old highway
Hermit:
There's a voice deep inside of the ancient one calling you
The door's not marked but the light shines through
Another Act, Different Scene
Storyteller:
Harry Jardiniere met Johnnie Walker at the Alligator Bar & Grill.
He was drinking and smoking heavy & Johnnie was popping pills.
He heard the wear in his old friend´s voice.
Emotions were stirred echoing his words.
Johnnie Walker:
I´ve been shaken and frozen inside,
Withdrawn, broken like the ground;
I been lost in a sound surrounded and found.
I´ve survived the darkest night
Alone on the desert sand.
I´m not a fraud and I´m not a holy man.
Harry Jardiniere:
Point the way
Persevering for the day
To find
a job working
For a United States company.
Owed so many bills causing our countrymen´s ills,
I have to pay so I must sell the story.
They´re drowning in debt
Though they work through a sweat,
So I dug out a book of history.
You could see it repeat itself,
Down from the shelf,
Brought back a picture in my memory.
I was at a reunion and sang a lullaby.
They wanted to discuss modern times.
We went down to the pier with our fishing line
Recalling the gig at the time.
Storyteller:
Harry Jardiniere is host and with his half tank of gas,
Hums his harp dancing with the light glistening through his glass.
Harry Jardiniere
(singing)
:
Someone buy two rounds & I´ll drink a toast to old Jim Bridger and to the band in the arena,
Where flower girls smile with their eyes at those passing by &
My lady Maria Bonita the Senorita,
She bathes in the soft moonlight &
Turns me away from the Margaritas,
Awakens and soaks up the sun in the shamrocks beneath her.
Storyteller:
No one could catch or match such
Succession of impressions in progression.
There was a wolf´s head in the passageway
With ringers on his fingers, muscles on his arms &
His songs played on the loudspeakers,
With the crickets in tune under the moon.
There were beautiful women, with purses, that would sway and swoon.
Four women horsing-around together,
Drinking up the time,
Waiting and juiced, ready and able,
They´re funny with an interesting line.
Lady Liberty:
It seems you can´t please everyone
& you don´t want to antagonize;
Everybody´s got so much to say
They could say better with their eyes.
Ida Red:
There are four queens in every deck,
Four kings in every scene,
Four aces in faces,
Four jacks in the right places.
Freya Chanteur:
The cost they share makes them feel bright blue.
If he had the chance, he´d make his dream come true.
No brazen anger, no nightmare trance,
No need to be strangers between the song and the dance.
Michelle:
Rainmaker, Rainmaker, shake that Rainmaker.
Make it rain a worthy treasure
For our dancing pleasure.
Rainmaker, Rainmaker, shake that Rainmaker.
Lady Liberty:
One Christmas eve I remember well.
Johnnie Walker called from his hotel.
(He said:)
Johnnie Walker:
It sure is hot here in Mexico &
This needle and grains just aren´t enough;
I used to spend Christmas as a family man;
Now I´m alone & on the edge of being a hollow man.
Lady Liberty:
Johnnie came home on New Year´s eve &
Paid the price of time,
And played a rhapsody in the rain
To this old heart of mine.
RAINBOW SKY
UNCLE JOHN
@ Caffè Lena, Saratoga Springs, New York
June 19, 2017
Experimental Theatre
for the play
The rain that we seek through the dance is the rain and the wind of the Spirit,
which is followed by the rainbows that follow us.
BIG WIND IS A-COMING
excerpts from:
Shelter From The Storm >
(Bob Dylan)
Big Wind >
(Marleen Molle Albin, Kevin Morgenstern, Arranged by Robert Hunter & Comfort)
Duquesne Whistle >
(Robert Hunter, Bob Dylan )
A Hard Rain's A-Gonna Fall >
(Bob Dylan)
Looks Like Rain
(John Barlow, Bob Weir)
DEAD & COMPANY
@ Saratoga Performing Arts Center, Saratoga Springs, New York
June 20, 2017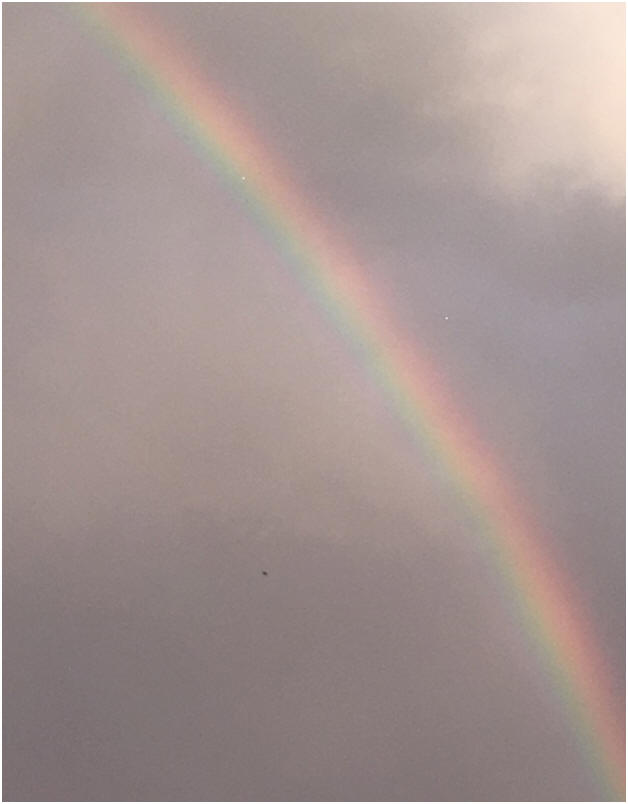 Rainbow appears in the sky during Dead & Company's performance of
"Looks Like Rain"
SUNDANCE
Lyrics by Uncle John & Music by Uncle John & Gary Sangervasi
Born in the American hills
Raised in a desert cave
It wasn't until he was twenty-one
He met Jesus and was saved
He can move like a mountain lion
Smell like a bear for snakes
Sundance is so bold and strange
As he is strong and brave

He has half a diamond for an eye
And an eagle to guide his way
And he lived ten years inside the city
And he learned the city´s ways
He had a love for the game
A taste for whiskey
A weakness for pretty women
But he couldn't understand the cruelty
To lock up so many people inside prisons
He is a man who loves his freedom

He picked up a simple stone
And at night his would shine
Reflected on the city
Illuminated the road in the sky
They say he has ten thousand brothers
And all of them believing men
And ten thousand sisters
And many children

He has vision for a river of time
Who can stop the rain at will
When you find him he can make it rhyme
And get even better still
He walks inside the cities teaching ecology
He painted a rose for a masterpiece
And helps the blind to see

He had a love for the game
A taste for whiskey
A weakness for pretty women
But he couldn't understand the cruelty
To lock up so many people inside prisons
He is a man who loves his freedom

Sundance is clever
And a man with many faces
He´s the only one I know
Holding all four aces
Now some say he is a prophet
And some just one man
But I know him as a friend of Jesus
And a child of the desert sand
Asking
How can the most advanced
Civilization of all time
be so far behind
be so far behind?

Now Sundance is among you

Who helps the four-winged beast to fly
Those who live to see
Half diamond for an eye
Shall see
Gold Rain fall from the sky
Sky roses
Raining from the sky
Roses from the sky
Roses from the sky
!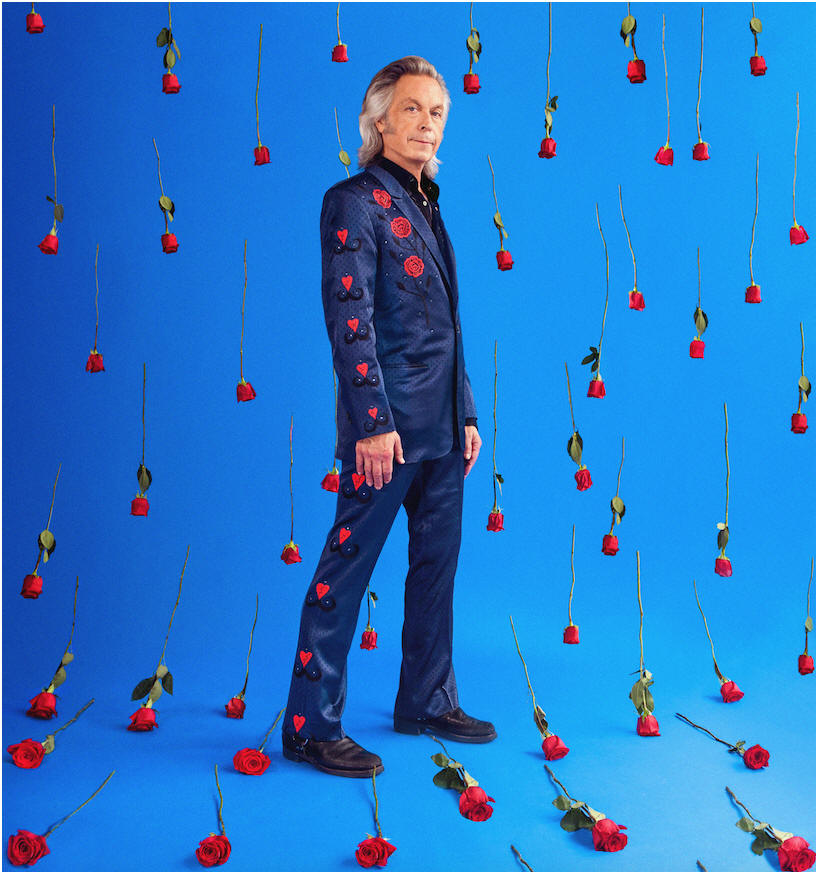 THE MISSION
Mississippi Captain fell in love
With the distant stars far up above
And got it together to build a ship
And get all his friends together for the trip
One lone dreamer came on by
Said "Mississippi Captain, how high is the sky?
I always had hopes to travel into space
And find new direction for the human race"
Well they got together and made a plan
To find another planet with air water and land
And in one swift stroke find the solution
To the cost of living with climate pollution
excepts
from the science fiction musical Play "RAINDANCE"
ALL MATERIAL IN THIS SITE PROTECTED BY:
THE DIGITAL MILLENNIUM COPYRIGHT ACT,
THE COPYRIGHT LAW OF THE U.S.A.
AND BY INTERNATIONAL TREATY PROVISIONS.
ALL RIGHTS RESERVED.
© 2023 Special Permission