DEADPATCH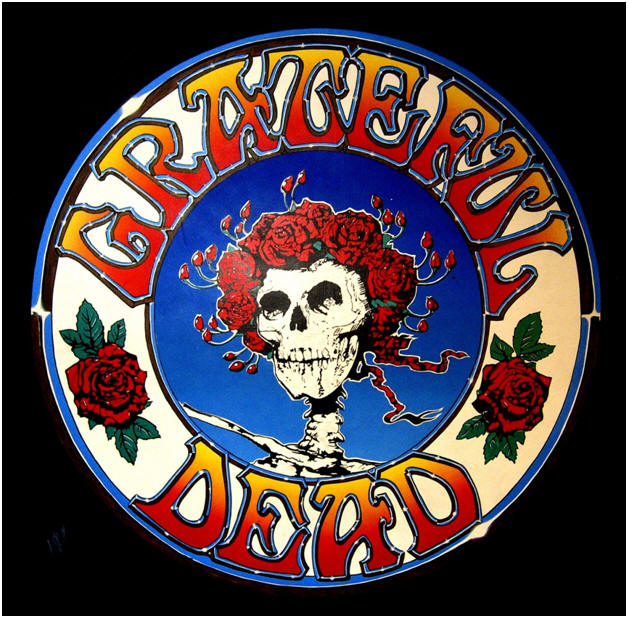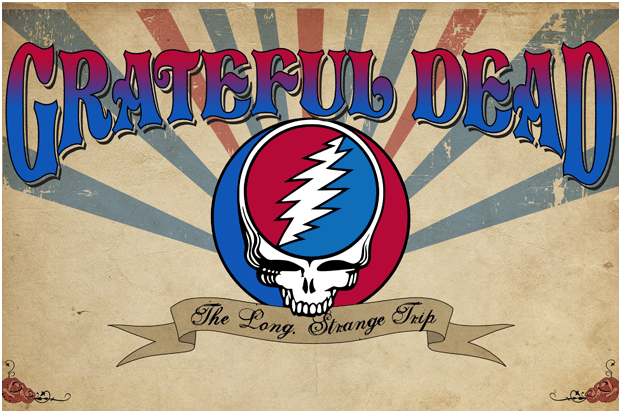 <![if !vml]>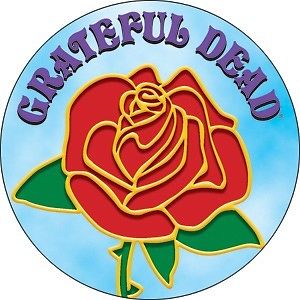 <![endif]>
Weird, strange and true
Stories inspired by the Grateful Dead and their songs
by Uncle John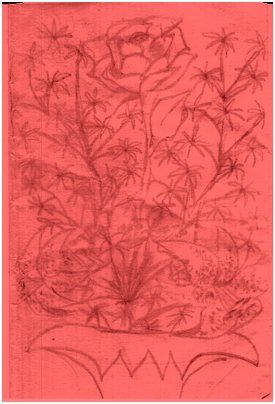 Drawing by Justice Rose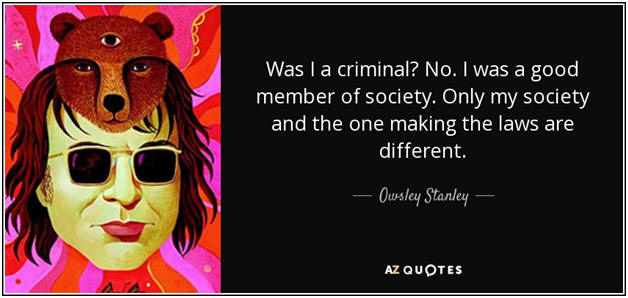 I am at The Palms on Van Ness Avenue in San Francisco one night when I notice the elusive reclusive Bear standing at the bar by himself. I go to the bar, stand next to him, and order a drink. Our backs are to the audience just before the start of a show. I pull out a joint, long before it was legalized, and ask Bear if he wants to smoke it with me right here at the bar. He gestures to me to put it away and says, "Without turning, look around the room and notice the people changing seats." I immediately catch a glance of someone leaving their seat and on the other side sitting down. I see the same thing happen again, two people trading places, bar hopping in the same bar. "Detectives!" Bear says to me. "There´s legal counsel in the audience too, Barry Melton" who plays with Country Joe & The Fish.
Bear is the Grateful Dead´s Audio Engineer, and a clandestine chemist. We´re all here to see the Grateful Dead lyricist, Robert Hunter play. He´s in a corner on the smallest stage with Larry Klein. Hunter starts to sing a song he wrote with Barry Melton:
"I come here to pass the time, to court the ladies and taste the wine."
He stops playing and says in the mic "Owsley, come on up here and help me sing this song." As soon as he hears his name, he is like The Flash and disappears. The bartender says to me, "he went out the back door."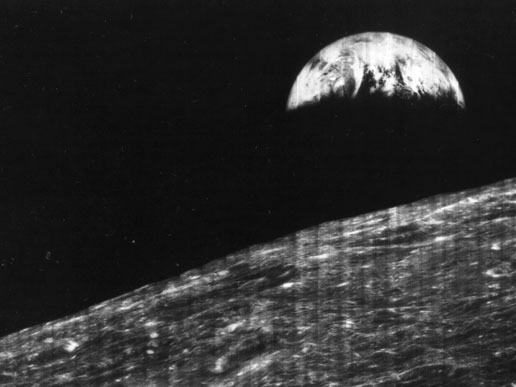 <![if !vml]>
<![endif]>
I'm not a Romeo
I do not want that fate
A simple twist you know
The fruit that she gave me I ate

Now we laugh and cry
Sometimes we wonder why
What happens with time
In the space where people die
Where it is no longer unknown
He is not alone anymore
I'm back at home
Where everyone looks at their phone

Going to the mountain
Where I remember about
Walking on the moon
Can I see your prints there?
I ask the invisible man
Humming a melody

"A beautiful view of heaven
But I prefer to be with you
Standing on the moon
I have no cobweb on my shoe
Standing on the moon
I feel so alone and blue
I see the Gulf of Mexico
As small as a tear
The coast of California
It must be somewhere over here"

I remember the last time I came to this mountain in Colorado
It's a long, steep journey to the Red Rocks amphitheater
Then you have to climb a thousand steps
The air is super thin
Furthur with Bobby Weir and Phil LESH are playing tonight
I'm near the backstage door when the vocalist Jeff Pehrson comes walking and I introduce myself
He asks me if I have noticed the moon today
I agreed with him that it is amazing to see the moon in this place
He tells me he asked Bobby and Phil if they would do the song> Standing On The Moon <tonight, even though it was not on the song list
It's like he knows what I have in my pocket
"Did you see that moon?" he asks me again
Jeff says he needs to get back on stage and mentions the moon again
In my pocket there is a book of matches of the Apollo 14 mission to the moon, from NASA
It has passed through space to the moon and back home
They say you can not light a fire on the moon
The flames of fire do not rise there
I give the book of matches to Jeff
I'm not running away
From what I feel inside
I'm letting it go
The girl with café eyes
She taught me about love
She showed me at night
She showed me the difference
Between darkness and light
When I was in ignorance and pain
She brought me change
God knows that I will never be the same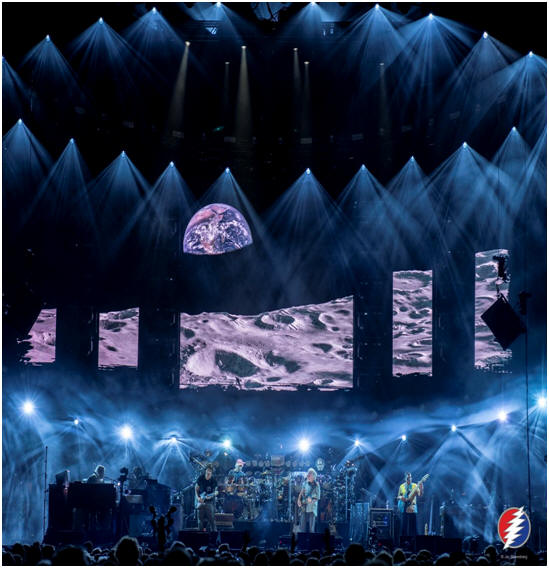 SCARLET BEGONIAS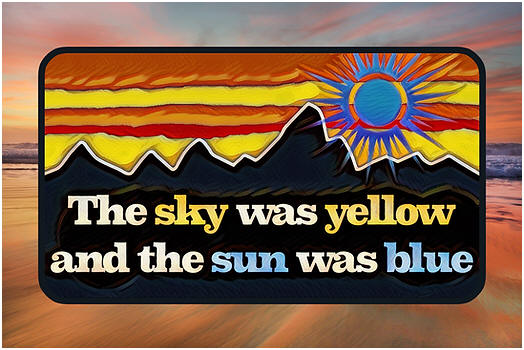 FROM THE MARS HOTEL
Red Eye to Mars
<![if !vml]>
<![endif]>
by Uncle John
<![if !vml]>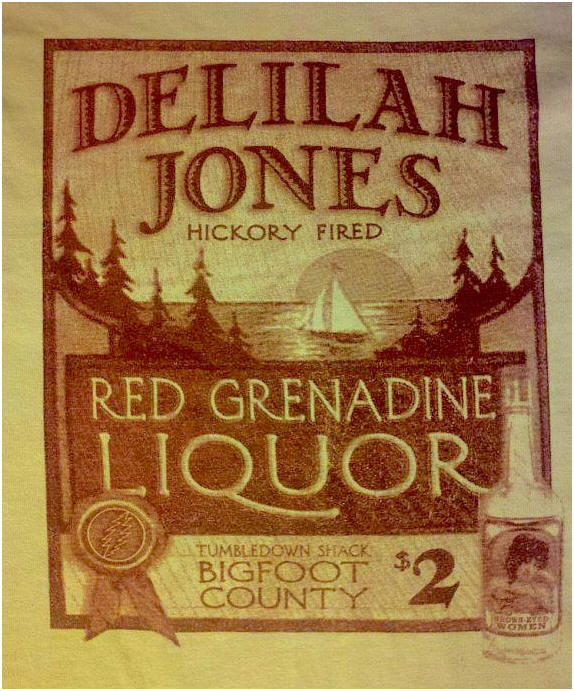 <![endif]>
It's the key! Your key! All I need is the key.
And a boarding pass.
My niece works for NASA. I called her and asked if she could get me a boarding pass for the InSight Mission to Mars that leaves Earth on Cinco De Mayo, the first space flight from California to another planet, and will only take six months to travel there.
It's a crazy idea, I know, and my mind is in shock and I don't know where to turn to. I´ve lost my teacher. I have become color blind, except the color red. All I can see is black white and red. I can't live without a teacher right now. The girl with the café eyes is the best and I need the best.
She's fine. I'm a mess. I know her eyes are café and her sister´s are green 
but all I can see are red ruby ​​eyes in my dreams staring at me.
<![if !vml]><![endif]>
she teaches me about love.
The episodes and chapters of love.
Her eyes and hands and what she says move me.
Her hands are like those of a photographer
Who takes a photo with his hands, not his eyes, 
and is flexible like a juggler.
S

he shows me different types of love, familial love, platonic, spiritual, 
romantic 

and

 crazy, sexual love and implies that it is not provided.
My respect for her is the consideration of being my teacher, and as a woman, daughter, mother one day, sister, friend, worker, assistant, lover of life.
Today's love lesson is very difficult. Being able to let you know 
if it is meant to be, it will come back to you. 
W

e will always know what it is to be grateful. 
<![if !vml]><![endif]>
The Red Eye to Mars will help me forget to remember her café eyes.
Did you receive the boarding pass in my name? I ask my niece.
 "Yes, Uncle John."
<![if !vml]>
<![endif]>
InSight Mission To MARS > Landing November 26, 2018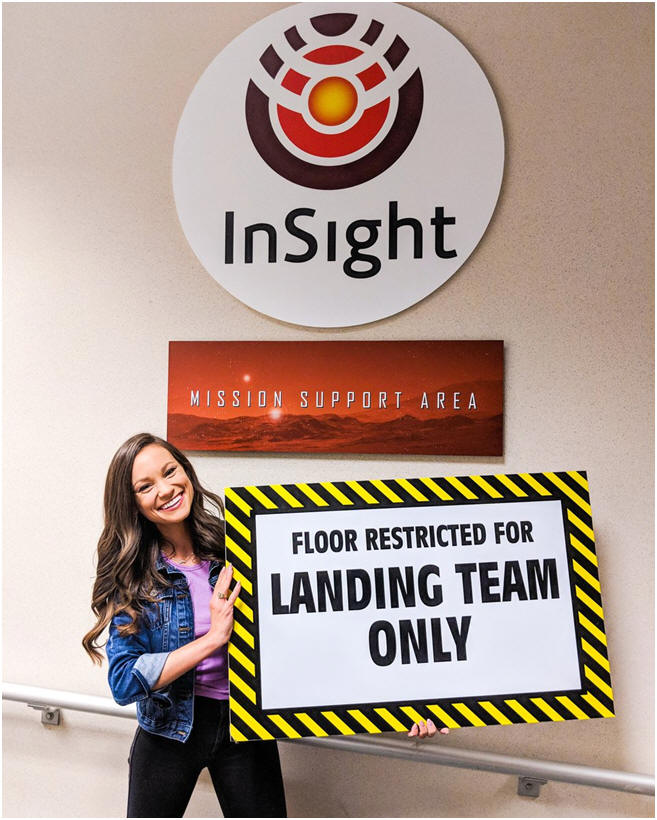 I´m writing this from the Mars Hotel & the music is excellent here! 
They say you can do stupid things when you're in love. 
I don't know what I'm doing, but I remember meeting the Grateful Dead
 in a hotel & Jerry Garcia is sitting in a big oversize chair
 surrounded by the band and crew. 
It is an unbroken chain of safe pleasure 
and all I could say is "I'm from Saturn." 
Jerry Garcia laughs out loud and says "Really?!" 
He then asks me to come closer to him. 
"These people are not going to bite." he says.
My rings are from Saturn.
 Garcia recites words from "Scarlet Begonias".
It`s about girls who aren't like other girls.  
I ask him about space and time.
"When you folks are on stage,
you seem to have such command over what you`re doing.
Is it because you discovered the keys of space & time
"That`s right!" he replies.
"Do you believe in a chosen people?" I ask him.
"I´m not satisfied until all are saved & everyone´s included". 
"Like the song says" he adds
"I ain´t often right, but I've never been wrong."
Scarlet Begonias Grateful Dead Lyric Art Sticker HERE
I Need A Miracle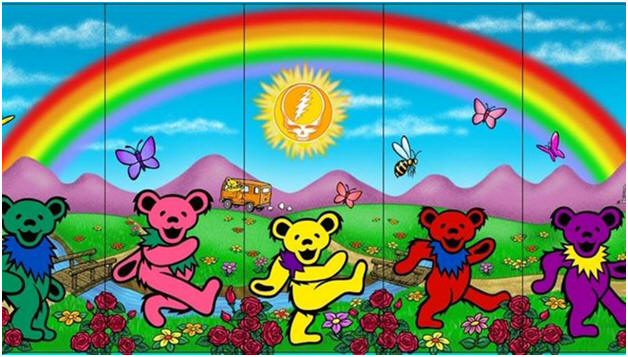 We all need miracles in our lives, small and large, and the Grateful Deadheads who believe, know how to see a miracle.
David Dodd says this song is light-hearted and self-aware.
"The miraculous is synonymous with the excessive, the transcendent with the hyperbolic and overblown".
Real miracles happen when our minds are open, and it´s about giving and receiving. Miracles are extraordinary, mysterious, inspirational and transformative.
I am at a show in Los Angeles, in the winter, to see Bobby & The Midnights, and during the show between songs, Weir exclaims,
"Just because I need a miracle everyday doesn´t mean I get one."
After the show I run into Bob Weir, and he says to me, matter of factly,
"I hardly have time to do my laundry."
"Where is heaven?" I ask him
"Ask Barlow!" he answers.
He pulls a piece of paper from his pocket and writes down John Barlow´s contact info, and I thank him.
That spring, I went to New York State to pick up my two step children, Robert and Kaela, who were visiting with their grandmother, to travel back to California where their mother is. On our way across country, we stop in Cheyenne, Wyoming, and I call John Perry Barlow, and he invites us to his ranch up north.
As soon as we arrive, Kaela, who is seven, asks him,
"Are you the one who wrote I Need A Miracle?"
"Yes, I am," John Barlow answers with a smile.
He introduces the kids to the other kids and they go play on the ranch.
He sketches his history with Bob Weir, then says, playfully with a smile, "You know that line, ´Ít takes dynamite to get me up´, really does describe him." Barlow´s dressed like a cowboy, with a black scarf tied around his neck.
He tells me they would meet in Salt Lake City to write songs together, and they wrote this one over BlackJack. He characterizes Bob Weir as a sensitive fellow, at times shy, reserved, and intensely private about delicate moments.
TOUCH OF GREY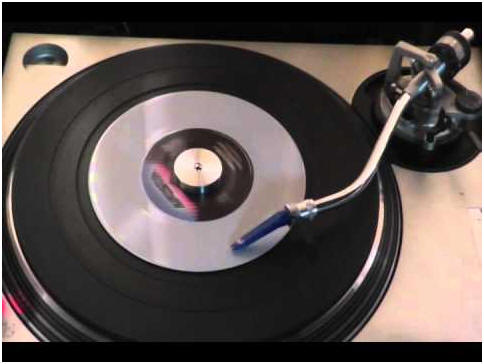 It took the Grateful Dead 22 years to get a top ten hit, "Touch Of Grey", from their album "In The Dark", on the Billboard charts. I share with my cousin this story about Bob Weir:
"I'm riding with Bob Weir in his car in San Francisco one sunny autumn afternoon. We're talking about songwriting and how do you write a top ten hit. While he's driving, Bobby is talking about having a hit on the radio and how the Grateful Dead would like to make one of those. Suddenly, he calls my attention to the car in front of us. The license plate reads HIT. Is that God or coincidence? Bob asks me."
One of the weirdest miracles I've seen in my life happened that night when I am driving my cousin, David Remillard, home from a Jerry Garcia concert in Albany, New York.
David is a local firefighter who lives on the same farm he grew up on in Schaghticoke, N.Y. On the ride home, we talk about the Grateful Dead and God. I share with him that story and how the Grateful Dead are different from any other band because of their spirituality, songs referencing the Bible, their universal reach, and love for all the cultures of mankind.
We ride through Mechanicville, then get on a long road leading to Schaghticoke. It's a new moon and cloudy night and there are no lamps or lights out here. I'm talking to David about God because he's become a disbeliever. I share stories about the Grateful Dead who have helped me understand without question, the existence of God and the Devil. Suddenly, the car stops and we're out of gas. I've never seen it this dark outside and there are no vehicles in sight. We have a flashlight, get out in the darkness, and walk around the car in the middle of nowhere. On the side of the road is a clear plastic bottle with something of amber color in it and my cousin says "Johnny don't touch that!" It's somebody's pee, he`s sure. I uncap the container. "It's gasoline" I tell him. "No it's not, it's somebody's piss," he replies. "We'll see when we put it in the tank." I respond. He is in shock when the car starts, and I remain amazed as the radio comes on and the Grateful Dead's top ten hit "Touch Of Grey" is playing "We will get by, we will survive."
"Is that God or coincidence?" I ask David.

Stories in the vault:
S
ugar Magnolia, Casey Jones, uncle John´s Band, DEAL, Going Down The Road feeling bad, Brown-eyed Women
The Music Never Stopped, SWEET BABY, Cumberland Blues, CRAZY FINGERS, shakedown street, BLACK MUDDY RIVER
In Queue:
Estimated Prophet, Drums/Space, Eyes Of The World, Truckin´, Friend of the devil, Bertha, BOX OF RAIN