DEADPATCH.COM
<![if !vml]>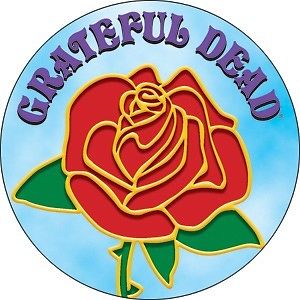 <![endif]>
As the Grateful Dead celebrate their Golden Jubilee, we share what some of their songs mean to us historically, spiritually, personally
<![if !vml]>
<![endif]>
SUGAR MAGNOLIA
<![if !vml]>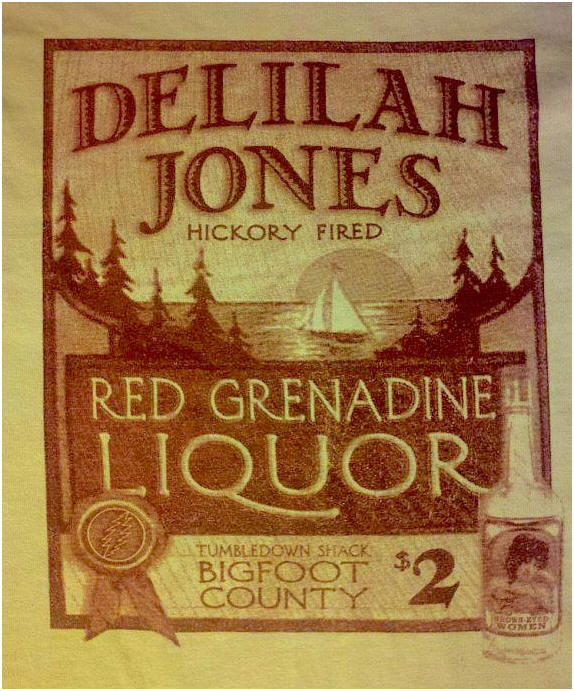 <![endif]>
She could dance a Cajun rhythm alright! The first time I see Frankie Weir is as a dancer on the old live rock 'n roll TV show, Shindig! I first meet her on the phone when she informs me Bobby is at the World Series game in Oakland. They are not married but share the same name. Frankie is a big inspiration for a song Bob wrote with Robert Hunter called "Sugar Magnolia". It's the liveliest, moist danceable song the Grateful Dead do; it's the most upbeat, inspirational, positive tune that actually has a lot of blood, sweat and tears & love poured into it. It's a sacred song about nature. It's a song that reaches into heaven. The music rocks your socks off in waves of vibration, gravity soaring, energy rising in the air and everywhere in the surrounding horizon.
It was wintertime, and I am at the King's Castle in Nevada to see Bob Weir and his band play. It's a critical, crucial, worrisome night for Bob, because of something that happened to Frankie. I'm not going to discuss or write about his private life, but most musicians would have cancelled and rescheduled their gig. Bob played his heart out that night. In between songs he would look for his piece of paper, and check to see what the next song on the set list is. Anytime the Grateful Dead were in a crisis they would cling to their music that would elevate and massage their senses, alleviate them from the burden of their thoughts, and keep their focus, to help them through the changes, and bring refuge from a stressful situation. It is one of the best shows he ever put on. He did three encores that night, most memorable, "'Round And 'Round", "One More Saturday Night" and "Sugar Magnolia". We were snowed in and no one could leave the next day. We went to the local pizza parlor and Bob Weir is singing here.
Sugar Magnolia" is Bill Graham's favorite Grateful Dead song and for many years played an instrumental part in the opening of each new year with that song, playing different characters each year, riding or flying through the air, greeting us as "Uncle Sam" or "Father Time", ringing that bluebell.
Bill Graham is the producer of each of these shows and plays a part reminiscent of Martin Scorsese, who appears as a character in many of the movies he directs: as Goodley, the manager of Birdland in the jazz film Round Midnight; as a television director in The King of Comedy, as a stagehand in Raging Bull, as a passenger in Taxi Driver, as a patron at the diner in Alice Doesn't Live Here Anymore, as a portrait photographer in The Age Of Innocence, as a client in a brothel in Boxcar Bertha, as the interviewer in The Last Waltz. He is producing a documentary for the Grateful Dead's fiftieth anniversary celebration.
Opening chords set the stage for Sugar Magnolia, blossoms blooming, as we empty our minds to open our ears, and hearts to listen, and dance in spring, or summer, winter or fall, y'all at peace, high air, rushes rollin', drop of morning dew, ultraviolet rays, shortest on the musical light spectrum, dawn awakens, walk in the sunshine rising over the seaside, standing on a mountain waitin' for the moonset day rise, in the wings alive, flyin' above the dance, spinnin' in the best air with a wave and a flare, humming the tune until the bells all a-ring and the band comes together to sing & we're dancing in air!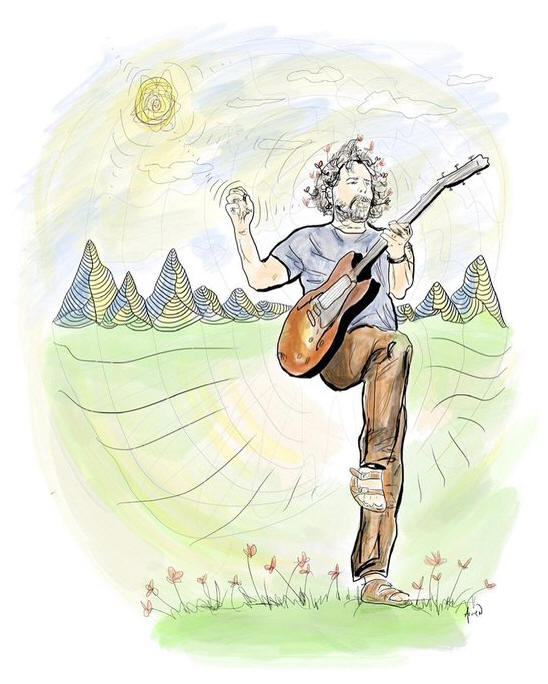 Art by Acorn
Ain´t no time to hate
Barely time to wait
CASEY JONES
"One man´s poison is another man´s dope."
--Jerry Garcia
I was a high school poetry teacher, and Casey Jones, an artist, was an instructor, and I would spend time on his couch in his space in San Francisco, smoking weed and writing poetry, while he did drawings and paintings at his desk.
Since he never talked about the Grateful Dead I wondered whether he ever met them. They did songs about Casey Jones, The Mighty Engineer, and Jerry Garcia and Robert Hunter wrote a very popular song, a cautionary tale about cocaine, called Casey Jones.
I ask Casey Jones one day if he ever met them. He didn´t answer me directly. He said you know the door across the hall from me? It´s a very small radio station the Grateful Dead helped start.
Another day I was ranting and raving about Robert Hunter, wondering whether he really existed. "He never shows up and it seems no one has ever seen him. Perhaps he´s an invisible man. He must be the fig newton of Jerry Garcia´s imagination" I said to Casey Jones. Casey jumps up out of his chair and goes to a box of records. He pulls up Workingman´s Dead and shows me the cover and points to the man at the end of the line next to Jerry Garcia. "That´s Robert Hunter!" Casey says to me. He puts the record on the turntable and we listen to "Uncle John´s Band".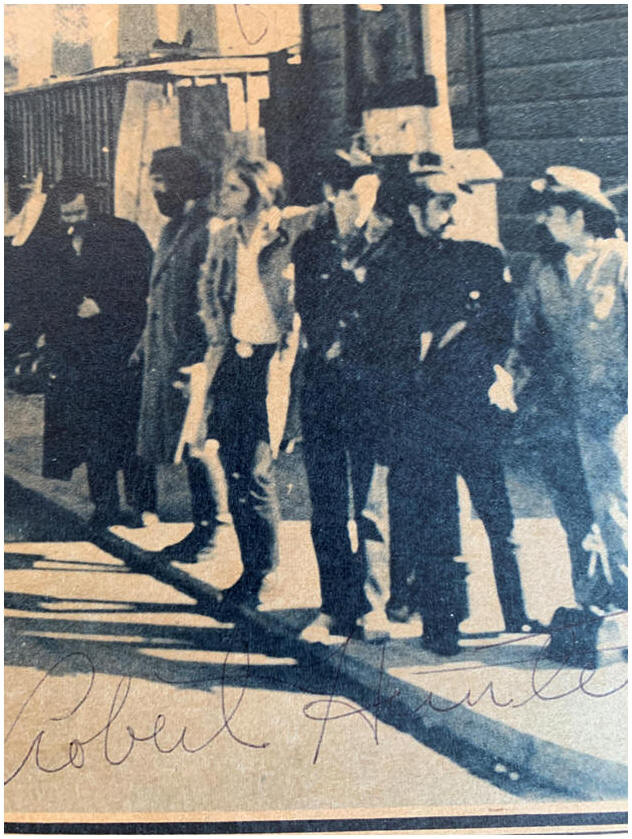 -2-
The song "Casey Jones" by the Grateful Dead was inspired by the Mighty Railroad Engineer, Casey Jones. It´s a very popular song with a cautionary tale about too much drugs and Casey Jones is "driving that train high on cocaine", not watching his speed with "trouble ahead and trouble behind", and the end of the line.
Knowing my friend with the same moniker would quietly do cocaine, his only drug of choice, while he draws, paints, creates, I was concerned, but I never saw Casey Jones take it to the extreme. I had formed my own opinions, and psychedelics was my drug of choice then. I avoided taking cocaine for many years convinced it was like poison, bad for your health. I heard stories of how it was made, mixed with gasoline and other toxic substances, and how the migrant workers, chewing on the coca leaves, would lose their teeth from the effects of the drug. Those who snorted cocaine chronically ran the risk of causing a rupture in the bridge of their nose.
I was also in a delusional state then thinking LSD was a superior drug and I thought of helping Casey Jones by offering him some LSD I had acquired that winter. I didn´t realize the drug was mixed with speed. Casey thought about it and declined my offer. I took the drug and continued to dose myself to stay awake. In about my fifth day, at night, I borrowed a friend´s car without permission and drove to Mendocino county figuring I would return it in the morning. I went to find my old college friend Steve for help and didn´t have his address but thought I could find where he lived, and my mind in total darkness is convinced I know where he lives. It´s just after sunrise and I see the house, go up the stairs of the porch, don´t knock or ring the bell, but walk into the house, open a door to a room, and there´s a big man sitting on his bed in his boxers holding a gun pointed at me. "Please, don´t murder me." The man told me "You don´t know how close I came to pulling that trigger." That was too close, and with that trouble behind there was still trouble ahead that day. I ran into my old friend Ira in Point Arena who said he could take me to Steve. It was raining, with thunder and lightning, and Ira brought me in the back door of a bar. Immediately, Steve asks me when will it be enough, and I told him I was done and gave him the rest of the tablets. We sat and drank dark ales. Steve said Ira would drive me to Steve´s house and I could crash there. I lost all touch with reality, including the car I took from San Francisco.
Ira was driving too fast on Highway 1, a crooked winding narrow road, in the pouring rain. Suddenly, I shouted as loud as I could, "I see a scroll". The word "scroll" had special meaning to Ira and me and it meant "trouble". Ira slams on the brakes and his Volkswagon comes to a screeching halt. We get out of the car and there is a giant redwood tree that had fallen across the entire road. Two inches away we were from real trouble.
All drugs carry the same warnings and all have some inherent poison. Even drugs found in nature have their own poison. If you know to clean out the strychnine in the peyote buttons before ingesting them, you can avoid the nausea and sickness that sets in right afterwards. It´s still going to taste terrible.
Casey Jones heard my story that crosses our mind, and the song to remind us. I saw him for the last time in early spring. He had an uncharacteristic smile on his face, reached out his hand and shook mine, and said "I am so glad I didn´t go on that trip with you."
<![if !vml]>
<![endif]>
Cumberland Blues
Phil Lesh of the Grateful Dead and members of the Terrapin Family band are playing their first concert in this new post pandemic year on April 1st, 2021 under the sun at Terrapin Crossroads in San Rafael. The band, with Stu Allen on guitar, are playing "Cumberland Blues" from the Workingman´s Dead album and I´m outside the gates without a ticket standing in the road by the canal listening to the show. Many in kayaks or paddle boards are in the canal. I notice this giant bird with broad wings flying rapidly from the stage area over the canal heading straight towards me. I hear an eagle´s whistle and I assume it´s an eagle until I later look up and see it´s a red tail hawk. I´m looking straight ahead and can feel the bird hovering just over my head. I don´t look up or at the crowd but I feel their eyes on this bird. I hear a couple people call my name and then someone shouts loudly, "It´s Jerry Garcia!"!
It´s a Holy Ghost moment! I´m standing at Terrapin where the roads intersect crossing paths with a bird. This song reminds me that this Grateful Dead sound is in interstellar space.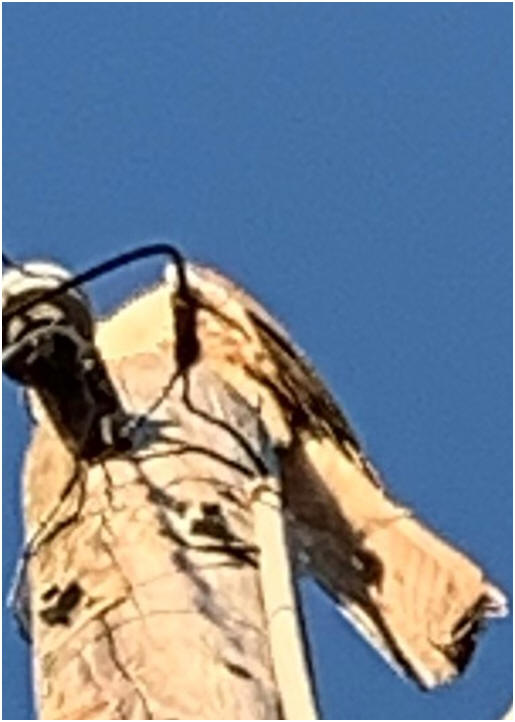 The spirit of Garcia is strong wherever Grateful Dead band members are playing. He shows up at Midnight North too. Sometimes his presence is so real I expect him to show up on a flying horse. I am standing next to a pole and I hear the bird move upward and I look up and see him perch on top of the pole. The red tail hawk is as glorious as the luminous day. He has come to clear the air as a guide with vision, an honest messenger. His message is "let your creative spirit flow". He is the gatekeeper to the future who knows the time and the season.
"Does the hawk fly by wisdom?" asks God in the Bible. Not by the prudence of men. He shows us signs in difficult times with the clear sight and sharp sound of a wise, eternal, holy and incomprehensible God.
There is nothing like the Grateful Dead experience!
<![if !vml]>
<![endif]>
TOUCH OF GREY
It took the Grateful Dead 22 years to get a top ten hit, "Touch Of Grey", from their album "In The Dark", on the Billboard charts.
I'm riding with Bob Weir in his car in San Francisco one sunny autumn afternoon. We're talking about songwriting and how do you write a top ten hit. While he's driving, Bobby is talking about having a hit on the radio and how the Grateful Dead would like to make one of those. Suddenly, he calls my attention to the car in front of us. The license plate reads "HIT".
"Is that God or coincidence?" Bob asks me.
One of the weirdest miracles I've seen in my life happened one night when I am driving my cousin, David Remillard, home from a Jerry Garcia concert in Albany, New York. David is a local firefighter who lives on the same farm he grew up on in Schaghticoke, N.Y. On the ride home, we talk about the Grateful Dead and God. I share with him that the Grateful Dead are different from any other band because of their spirituality, songs referencing the Bible, their universal reach, and love for all the cultures of mankind.
We ride through Mechanicville, then get on a long road leading to Schaghticoke. It's a new moon and cloudy night and there are no lamps or lights out here. I'm talking to David about God because he's become a disbeliever. I share stories about the Grateful Dead who have helped me understand without question, the existence of God and the Devil. Suddenly, the car stops and we're out of gas. I've never seen it this dark outside and there are no vehicles in sight.
We have a flashlight, get out in the darkness, and walk around the car in the middle of nowhere. On the side of the road is a clear plastic bottle with something of amber color in it and my cousin says "Johnie don't touch that. It's somebody's urine." It's a gallon container and I uncap it. "It's gasoline" I tell him. "No it's not, it's somebody's piss," he replies. "We'll see when we put it in the tank." He is in shock when the car starts, and I am amazed as the radio comes on and the Grateful Dead's top ten hit "Touch Of Grey" is playing "We will get by, we will survive."
"Is that God or coincidence?" I ask David
Standing on the Moon
<![if !vml]>
<![endif]>
I'm not a Romeo
I do not want that fate
A simple twist you know
The fruit that she gave me I ate

Now we laugh and cry
Sometimes we wonder why
What happens with time
In the space where people die
Where it is no longer unknown
He is not alone anymore
I'm back at home
Where everyone looks at their phone

Going to the mountain
Where I remember about
Walking on the moon
Can I see your prints there?
I ask the invisible man
Humming a melody

"A beautiful view of heaven
But I prefer to be with you
Standing on the moon
I have no cobweb on my shoe
Standing on the moon
I feel so alone and blue
I see the Gulf of Mexico
As small as a tear
The coast of California
It must be somewhere over here"

I remember the last time I came to this mountain in Colorado
It's a long, steep journey to the Red Rocks amphitheater
Then you have to climb a thousand steps
The air is super thin
Furthur with Bobby and Phil are playing tonight
I'm near the backstage door when the vocalist Jeff Pehrson comes walking and I introduce myself
He asks me if I have noticed the moon today
I agreed with him that it is amazing to see the moon in this place
He tells me he asked Bobby and Phil if they would do the song> Standing On The Moon <tonight, even though it was not on the song list
It's like he knows what I have in my pocket
"Did you see that moon?" he asks me again
Jeff says he needs to get back on stage and mentions the moon again
In my pocket there is a book of matches of the Apollo 14 mission to the moon, from NASA
It has passed through space to the moon and back home
They say you can not light a fire on the moon
The flames of fire do not rise there
I give the book of matches to Jeff
I'm not running away
From what I feel inside
I'm letting it go
The girl with café eyes
She taught me about love
She showed me at night
She showed me the difference
Between darkness and light
When I was in ignorance and pain
She brought me change
God knows that I will never be the same
<![if !vml]>
<![endif]>
"The rainbow was real."
--Paul Hoffman, Lighting Director for the Grateful Dead
According to news reports that surfaced after this rainbow occurred in Santa Clara, California on June 27, 2015 during the Grateful Dead's show, it was unbelievable to some reporters who raised speculation it was a contrived event. There was a magnificent rainbow arching over the entire stadium, with perfect timing showing up during the final song of their first set on this first night of "Fare Thee Well", and morphing into a double rainbow. Billboard.com stated it was not Divine intervention or Mother Nature's unusual weather. One report claimed the Grateful Dead spent $50,000 to stage this rainbow. An ABC News report stated it was possible. "What a great way to create a buzz, for a run of shows that have been nothing if not buzz-worthy from their very first announcement." After all, the Merry Pranksters were there. According to reports, the Grateful Dead orchestrated this rainbow by placing 600 special lights on a building two miles away. Of course they had to bring in the cloud cover, and a few raindrops fell on this crowd in a rainless drought-stricken time, and for the climax, a spectacular incredible sunset fills the sky. Billboard did a retraction by quoting a Deadhead, "This is the band that jams with God."
True Stories by Uncle John