TWO VIEWS
(excerpt)
"Give thanks and praise to the Lord and I will feel all right;
Let's get together and feel all right.
Give thanks and praise to the Lord and I will feel all right;
Let's get together and feel all right."
from the album EXODUS by Bob Marley named by TIME magazine as the greatest album of the twentieth century.
Meeting Bob Marley is a special and profound experience. The night before I had performed his song "No Woman No Cry" at The Sweetwater in Mill Valley, California, with guitarist Gary Sangervasi. Gary is one of the best reggae sound and rock players I know. I met him when I taught high school poetry in San Francisco and he was one of my students. Gary comes with me to Solomon's Tower in San Francisco where we meet Bob Marley. Marley's music plays in the background of the record store. Bob's hips are swaying in rhythm to the music. There's more to his presence than his dreadlocks, being a man of creative passion with a genuine outpouring of love. He captivates my attention & there is a deep spiritual seeking in his eyes, and the graceful motion of his hips, and in his simple smile there is peace about him, even though he has cancer.
Bob is dancing in front of me and Gary, and writes a note and hands it to me:
<![if !vml]>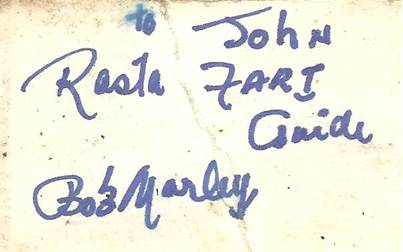 <![endif]>
Bob Marley's inceptive spiritual orientation is as a Christian, and he performs Biblical songs like "The Lord Will Make A Way". Influenced by Ethiopian illustrations of a dreadlocks Jesus, and incited by Rastaman Mortimo Pianno, Marley recorded an obscure first record, adapting the doo-wop hit "Crying In the Chapel" and changing it to "Selassie In the Chapel". The soul searcher who's early acoustic gem "Pray For Me" saw himself as a soul singer in the genre of rhythm and blues, and inspired by the ska vibration and tempo, and African-Jamaican folk drumming, a new unique soulish sound called reggae is born.
In Ethiopia, 1930, RasTafari Makonnen, became "His Imperial Majesty Emperor Haile Selassie, king of kings, lord of lords, the conquering lion of the tribe of Judah", from the house of David and claims his lineage with King Solomon and Queen Sheba, the 225th restorer of the Solomon dynasty, a throne 3000 years old, the throne of God on earth, promised by God to endure as long as the sun and moon.
"Once for all, I have sworn by my holiness - and I will not lie to David - that his line will continue forever and his throne endure before me like the sun; it will be established forever like the moon, the faithful witness in the sky." (Psalm 89:36-37). Some consider him the promised messiah. They quote Jeremiah 23:1-8 to justify their belief that the scattered flock of Africans would be righteously restored, and his followers look to him and call themselves "Rastafarians". They believe Jesus looks like them. In the climate where Jesus grew up his skin was tan dark, his hair long. They wear a mane of dreadlocks, the ultimate symbol of their independence from Babylon. Reggae music is their conscious vessel to spread their message. They say they are faithful to living life according to the Bible. They adhere to a principled code. They study the Bible from an Afro-centrist view. They read of Moses marriage to an Ethiopian woman, and how Christ's apostle Philip baptized an Ethiopian Jew on his way to Jerusalem (Acts 8:26-40). They begin to see themselves as a remnant to be recovered.
Jeremiah 23 also cautions about false prophets and deceit in the heart. The Bible also warns us about idolatry, and idol worship as irrational, degrading, demonic, defiling, enslaving, and abominable. Idols can be anyone or anything, whatever elevates itself equal to or above God, in whatever form the object of worship takes.
Emperor Selassie made a historic visit to Jamaica in 1966, and for the first time saw people, Rastafarians, worshipping him as God. The emperor, a true Ethiopian orthodox Christian, was deeply dismayed. In Kingston, at a news conference, he tried to dispel the myth, that they might renounce their idolizing him as a Divine human. RasTafari said: "I am a man, and man cannot worship man."
Bob Marley is an international icon, but his pursuit of God is genuine and no one can deter him from this true path. Seven months before he passes away from cancer at the age of 36, he renounces the Divinity of Selassie and is baptized into the Ethiopian Orthodox church. The Archbishop christens him in the chapel with a new name, "Berhane Selassie", meaning "light of the Trinity". He hugs his family and they weep together for about a half an hour that day. One his dying day, he stretches out his hand and his last words are "Jesus, take me".
---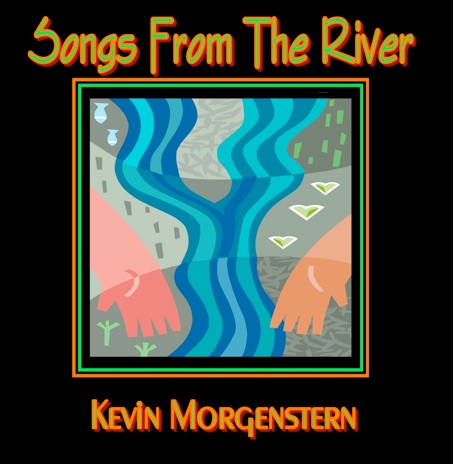 The widely acclaimed "Northwest legend" leads guitar in many bands, playing Grateful Dead rock, reggae (with Ma Barley), bluegrass, big band and jump boogie swing, country folk, jazz, New Orleans street beats and gumbos, and an eclectic mix of Chicago and Southern blues. He performs with

The Bond Street Blues Band who have appeared throughout the Northwest at numerous festivals, concerts and clubs, including a regular stint at the White Eagle in Portland. In addition to the Portland Waterfront Blues Festival, this Astoria band has performed at the Seaside, Cannon Beach, Eugene, and Long Beach outdoor concert series', Clatskanie's Performing Arts Series, Gray's River Covered Bridge Festival, as well as prominent blues venues in Portland and throughout Oregon. Bond Street's latest offering, Chickenshack Boogie Nights, includes classic blues material from traditional to contemporary with exceptional solo work on guitar, piano, saxophone and harmonica, all backed by a rock-solid rhythm section and performed by band members Joey Patenaude, Tom Peake, Peter "Spud" Siegel, Bill Uhlig, Calen Uhlig, Johnnie Ward and Mike "Scheckie" Metzner.